If you're after a cheap Keurig coffee maker, you're in luck as Home Depot has just announced a 29% saving on the K-Supreme Gray Single Serve Coffee Brewer, now just $99.99. One of the Best Cyber Monday USA deals for caffeine lovers, this Keurig coffee maker deal saves you $40 today.
Also regarded among the best coffee makers, Keurig is known for its stylish coffee machines that are easy-to-use, and won't take up too much room on your countertop either. An ideal Christmas present for any coffee lover, or just to make your morning brew that bit more special, the K-Supreme Coffee Brewer is a new model from Keurig and it's finished in a stylish gray color, or you can opt for the black finish.
This cheap Keurig coffee maker uses capsules and once you've place your chosen capsule inside the machine, and selected the size coffee you'd like, it'll take care of the rest for you. Looking great, this coffee maker is also small enough to keep in a home office, should you need delicious brewed coffee throughout the day.
We've included some fantastic cheap Keurig coffee maker deals below.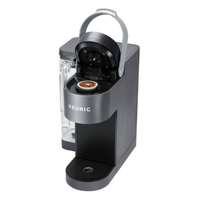 Keurig K-Supreme Single Serve Coffee Brewer: $139.99 now $99.99 at Home Depot
Save yourself an impressive $40 and grab this stylish coffee maker for under $100 now at Home Depot. Perfect for your morning brew, or great for a gift, the Keurig K-Supreme is a single-serve machine that offers four choices of cup size to suit your needs.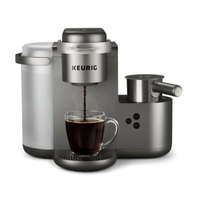 Keurig K-Cafe Special Edition Single Serve Coffee Maker: $219.99 now $189.99 at Home Depot
This stylish bit of kit is everything you need to fix your cappuccino, espresso, and latte habit. With a milk frother, five size settings, and a shot button, this coffee maker has it all - and now it's $30 cheaper!
Designed to brew you a perfectly smooth coffee every time, the Keurig K-Supreme is fitted with multi-stream technology which works by heavily saturating the coffee grounds in each capsule so that you end up with a deeply flavored drink. With this cheap Keurig coffee maker deal, you're getting a choice each time of four different brew sizes. Take your pick from six, eight, 10, and 12 oz cup sizes, or take advantage of the over-ice feature if you're in the mood for a refreshing iced coffee.
If you like your coffee strong, the Keurig K-Supreme also has a strong setting, and you'll be able to take your pick from Keurig's wide selection of capsules. If it's milk-based coffees you love though, we think the Keurig K-Cafe deal is the one for you.
Get ready to be your own barista with the Keurig K-Cafe, and this type is also a special edition! Complete with a milk frother which can be used for whole milk, nut milk, or skinny milk, the Keurig K-Cafe can act as one of the best espresso machines with its strong 2 oz shot setting, or you can make yourself a nice cappuccino. Even better, the frothier is dishwasher friendly!
More cheap Keurig coffee maker deals
Want to save on other items too? Don't miss the best Cyber Monday USA deals for 2020 - which includes early price-cuts from around the web. For something bigger, we've also got Cyber Monday refrigerator deals.