Gas-powered mowers come without the obvious lead restrictions of corded electric options, making them more suited to larger lawns, but having an engine in the mower normally comes with quite a price hike. There are now of course battery-powered mowers, but these add a further premium to the price tag.
The Troy-Bilt TB210 has all the benefits of a premium engine mower but while being priced closer to corded electric models. Though best suited to small to medium sized lawns (1/4 to ½ acre) it gives a great cut and is easy to start and operate.
The TB210 is Troy-Bilt's entry-level self-propelling model, replacing the popular TB200. If you're looking to upgrade to an engine mower or replace an old model without breaking the bank, the TB210 is a great choice. That's not to say it's without competition; Toro offer models at a similar price, while Honda's options are a little more but offer some superior features. Read on to discover how it performs.
Features
Deck wash feature makes cleaning easier
Front wheel drive helps manoeuvre the mower
Three output options to suit how you like to mow
Key specifications
Total weight: 75lbs
Handle height: 38-inches
Engine size: 159cc
Side discharge: Yes
Self-propulsion: Front Wheel Drive
Wheel height adjustment: 2 levers
Electric start: No
Warranty: 2 years
Blade width: 21-inches
Bag capacity (bushels): 1.9
Cutting positions: 6
Minimum cutting height: 1.25-inches
Maximum cutting height: 3.75-inches
Cleaning your mower after use normally means tipping it on its side to wash off the stuck grass, but the TB210 features a deck wash system. This allows you to directly attach your garden hose to the mower and blast the turning blades with water while it is still safely on all four wheels. The 'check, don't change' oil system also makes maintenance simple.
Unlike most self-propulsion mowers, the TB210 is front wheel drive rather than rear or all-wheel drive. This allows the mower to be turned easily by raising it on to just its back wheels, where there is no motor resistance. However, placing the power at the front means it lacks the weight of the bag over the wheels to help give traction.
The TB210 features a side chute to eject the grass, which can be opened. Alternatively, grass is directed into the rear bag for collection, or mulched under the mower. It doesn't however, feature Honda's ability to choose a varying mix of mulching and bag storage.
Design and build
Solid and well-built mower with two metal axels for wheels
Symmetrical deck extends beyond wheels for edge to edge cutting
No cushioning on handle can lead to vibration fatigue
The wheels of the TB210 are mounted on two independent metal axels, rather than bolted directly on to the body of the mower. This, Troy-Bilt claim, helps keep the wheels running straight, and does allow the mower to be raised and lowered using just two levers rather than four.
The deck of the TB210 has been designed to create enough of a vacuum to allow the grass to circulate freely and extends out beyond the wheels to allow easy edging. This is something we would expect from premium mowers, but isn't always the case with cheaper options. A plastic rake mounted to the front and an s-shaped blade are also designed to improve the cut.
At 38-inches, the handle height is not as tall as many of its competitors and lacks a height adjustment option, so those over six-foot may find it a little low. There is also a lack of cushioning in the handle, so vibrations from the engine transfer straight to your hands. Though fine for smaller lawns, longer sessions could get a little uncomfortable.
Performance
Easy starting, without multiple attempts
A good even cut
In our tests the TB210 started on first pull every time and having the variable speed options meant that we could set the mower to our walking pace, rather than the other way around.
The results from the TB210 speak for themselves and achieved a great looking cut on a range of different length grass. We're not sure how much the rake bumper, designed to help stand the grass up before it reaches the blades, helped, but it certainly did no harm.
One thing of note is that the instruction manuals are quite generic, covering a range of different models. This can make specific features and operation difficult to follow, as many of the parts don't apply to the TB210.
Verdict
The Troy-Bilt TB210 is a very capable mower and, for its feature set, offers great value for money. The front-wheel-drive set up won't suit all users, and does have its drawbacks, but those looking for a lightweight solution that is easy to manoeuvre are well catered for here.
For smaller, flatter lawns (under half an acre) the TB210 is well suited. However, those with larger or less even areas to mow, the small grass capacity and lack of handle cushioning or adjustment may become tiresome.
Some of the added features of the TB210, such as the variable speed, deck wash function and two-lever adjustment, put the mower in the league of some more expensive models, and certainly make for compelling buying reasons. Engine size and mowing width compare with self-propelling models from Troy and Honda that cost a good deal more. If you are looking for a proficient gas mower under $300, the TB210 is a solid choice.
Need a better alternative?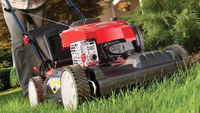 Top Ten Reviews has reviewed the Best Gas Lawnmowers 2019 so that we're able to offer you the authoritative buying advice you expect.