If you're struggling to sleep, this Withings Black Friday deal on the brand's popular Sleep Tracker could help you out. The aptly named Withings Sleep Tracking Mat slips under your mattress, and once fully set up it'll show you how much quality sleep you're getting each night, and the changes you can make to sleep better. It's like having your own personal sleep doctor, and today you can save $25 on the Withings Sleep, now just $74.96 (down from $99.95).
Thanks to these Withings Black Friday deals, you can also save 30% on the Steel HR Hybrid, one of the brand's best smartwatches for tracking daily activity, heart health and sleep.
It's the perfect accompaniment to this Withings sleep tracker, designed to provide advanced sleep tracking data on everything from your sleep cycles to snore detection. It'll even turn that information into a health report that you can share with your doctor.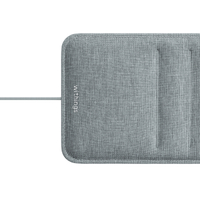 Withings Sleep Tracking Mat | Was $99.95 | Now $74.96 at Withings
Get 25% off this top sleep tracker, which offers in-depth analysis of your sleep cycles. Track your heart rate, detect whether you snore, and wake up to immediate in-app results. There's also a shareable report so you can discuss your results with your doctor.
Beyond ensuring you have the best mattress online for your postural needs, as well the best pillows for your preferred sleep position, a quality sleep tracker could give you the insight you need to help you enjoy quality sleep consistently. For example, the Withings sleep tracker will pick up on any noise disturbances in your bedroom that could be rousing you from deep, nourishing sleep. If you menstruate, it can also show you how your monthly cycle might be affecting your sleep.
The Withings Sleep Tracking Mat even has a snore detection function, so if you or your partner snore, and it wakes you up, you'll see that data in the Withings Health companion app too. It'll also produce a digital report that you can show your doctor if you are experiencing sleep issues.
Just like the best fitness trackers that monitor your activity while you're awake, a sleep tracking mat is a great way of knowing what's going while your eyes are closed. The Withings Sleep Tracking Mat will spot if you aren't entering any deep sleep cycles, which could be the reason why you feel so tired even though you think you've been sleeping for several hours.
The mat also comes with a home automation feature, which allows you to control the lights, temperature, and other smart-home enabled devices simply by getting in and out of bed.
More sleep deals to shop this Black Friday
There are plenty of mattress sales to shop this month and into December, with savings to be had on many big-name sleep brands. These are the ones to shop:
Want more bargains? We've rounded up the best Black Friday USA deals, including early price-cuts from around the web. For extra sleep content, read our guide to the best sunrise alarm clocks to help you rise and shine more naturally, as well as the best bed toppers for instantly boosting your in-bed comfort.