Echo CS-310-14: What you need to know
The Echo CS-310-14 is a powerful standard gas-powered chainsaw. The 14-inch bar is strong enough to fell trees, but small enough to store in a garage. The 30.5 cc two-cycle engine is light, but has enough muscle to rip through wood while also maintaining fuel efficiency.
Echo CS-310-14: Features
When we tested this saw, our lab team had several things to say about it. One tester appreciated the placement of the primer bulb, "More convenient primer location than on Husqvarna." Another tester had a different comment, " It's more convenient for you, because you don't have to hold the trigger to prime it."
They also commented on the cutting power it produces, "Doesn't seem as powerful as the previous two," one said, referring to the 30.5 cc Sthil MS170 and the 38.2cc Husqvarna 240, compared to this model's 30.1cc engine. But that wasn't enough to sour them, "Not a bad saw, though."
Echo uses an i30 starting system for quick ignition. We started each chainsaw for the first time out of the box. We noted how long it took each one to start with just one pull of the cord – the Echo took four attempts. This is good, but not the fastest we saw in our test – Husqvarna only took three attempts while the Poulan Pro took seven.
Echo CS-310-14: Performance
The Echo chainsaw cut through our test log at high speeds, averaging just under five seconds per cut. However, its noise level reached around 90 decibels. That being said, you should always wear hearing protection when operating any chainsaw. The chainsaw's plastic and aluminum body weighs only 8 pounds. These materials may bend if strained, but they keep the saw light and easy to handle.
We used the chainsaw to clear out an overgrown yard with half dead bushes, dead trees, stumps and more. We were impressed at how well the Echo cut through everything in its path with relative ease, even on a hard, dried cherry tree stump – which several of our corded models struggled mightily with.
The final verdict for this chainsaw from the testing crew was, as one tester put it "these are more pro models, not for use around the house." Professionals, enthusiasts and frequent users will appreciate all the aspects of Echo, but it's overkill for the occasional user who wants to remove a bush in his yard.
Echo-CS-310-14: Specs
Power Type: Gas powered
Bar length: 14in
Chain size: 14in
Max cut diameter: 25in
Chain pitch: 3/8in
Weight: 10.3lb
Handle type: Rear handle
Noise: Up to 90 dB
Echo CS-310-14: User Reviews
The Echo CS-310-14 has a 62% five star rating on Amazon (opens in new tab). Users consistently praised the Echo for its small, light frame which made it perfect for small jobs around the garden such as tree limb cleanup. One user specifically noted that they had used it for "brush clearing and trimming and pruning trees with trunks up to 10 to 12 inches thick without any problem."
Some users did note that while it's perfect for small and medium jobs, the Echo CS-310-14 doesn't have enough power for really heavy duty work. Another user noted issues with claiming against the warranty when the saw broke down, so be mindful of this.
Echo CS-310-14: Extras
Parts and repairs are available for the Echo saw from large home improvement stores and licensed dealers alike. This provides the option to visit a specialty store or a large chain, depending on the services available in your area. Some chainsaw brands require licensed professionals to perform maintenance, which increases the chances of your chainsaw being repaired correctly the first time versus making multiple trips to the home improvement store for new parts. Luckily, this saw is under warranty for five years.
This specialty service is part of why this Echo model doesn't come with many accessories. Rather than including items like a chain or sharpening tools, you must visit these specialists to find exactly what the model needs. In the box, there are essentials like an owner's manual, scrench, bar scabbard and engine oil. Although there is no carrying case included with this model, Echo dealerships provide cases, files and other accessories you may need.
Echo CS-310-14: Verdict
The Echo CS-310-14 is light and starts quickly, making it a suitable chainsaw for professionals, power tool lovers and rural homeowners. It's easy to start, handles well, provides the power to cut through thick wood and it's easy to find service centers for regular maintenance.
Need a better alternative?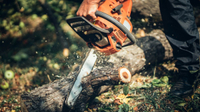 (opens in new tab)
Top Ten Reviews has reviewed the Best Chainsaws of 2020 so that we're able to offer you the authoritative buying advice you expect.