Finding the best RC helicopter deals is a great way to test the waters if you're curious about RC helicopters and interested in taking them up as a hobby. Luckily for you, we've rounded up a variety of RC helicopter deals so you can delve right into it without blowing your budget!
RC helicopters can seem like an intimidating activity to get into as they're quite technical and jargon-heavy, but there are options available for every budget and ability. We've also detailed many popular and affordable models' specifications below to help you make an informed purchase.
Unlike remote control cars, the "RC" in RC helicopters stands for "radio-controlled". This means that the helicopters are controlled by a radio or transmitter, which is what the user holds and uses to control the helicopter. It generally has a left and a right stick to guide the helicopter's movements as well as various other toggles and switches. In more sophisticated models, you can have computerized screens with additional data and controls.
There are different types of RC helicopters available out there. Here, we'll be focusing on toy RC helicopters, which are a great entry point into the hobby. They're less technically challenging than models you have to assemble yourself, but they're more convenient and less expensive, making them accessible to anyone.
The most common type of toy RC helicopters you can find are coaxial models, meaning they have two rotors mounted one on top of the other with the same rotational axis, but turning in opposite directions. Coaxial helicopters (2 CH) are generally simpler to control and more stable, making them ideal for beginners. Many popular models, called 3 CH, also have a third smaller rotor on the tail.
With all this in mind, we've rounded up a variety of toy RC helicopters below and outlined their features and specifications so you can choose the perfect model for you.
Best RC helicopter deals
RC helicopter deals
If you've decided you're ready to take the plunge and invest in an RC helicopter, we've rounded up some great deals you can shop on your newest hobby. We've included options to suit a variety of budgets and abilities, so you should find the perfect choice for you.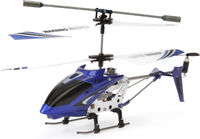 Syma S107G 3 Channel Helicopter | was $28.99, now $24.98 at Amazon
Get a small discount on this easy to fly 3 CH RC helicopter, great for beginners. It has a built-in charger and an upgraded metal frame for durability.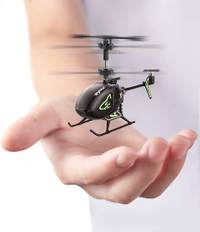 SYMA S100 Mini RC Helicopter | was $39.99, now $31.99 at Amazon
Small but mighty, this mini RC helicopter features LED lights, a rechargeable battery and a remote control to make it go up, down, left, right, forward and backwards.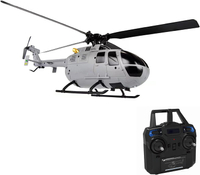 GoolRC Single Propeller Helicopter RC | was $115.89, now $105.99 at Amazon
This GoolRC helicopter has an aileronless design, so the propeller is designed to provide power and stability to the helicopter. It has an intuitive one key take-off and landing function, making it easy for beginners.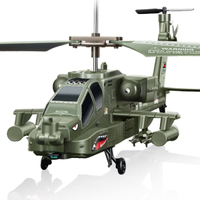 Syma S109G 3.5 Channel RC Helicopter | was $47.75, now $31.99 at Amazon
You can now get 33% off this USB chargeable RC helicopter. It's suitable for indoor flying only, so it's perfect if you don't have access to a yard or want to use it in bad weather.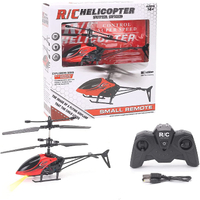 chengchuang 2CH RC Helicopter | was $29.99, now $19.99 at Amazon
This lightweight RC helicopter has flexible blades that are child-friendly, making it perfect to gift to kids. The helicopter can fly up to a range of 60 feet for 10 minutes after just a 20-minute charge.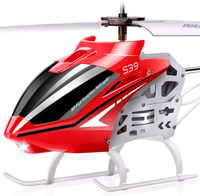 SYMA S39 RC Helicopter | was $55.99, now $39.19 at Amazon
The snazzy red SYMA S39 RC helicopter is built to be very sturdy, so it's suitable for children to play with. It's USB chargeable and kitted out with LED lights so it can be used at night.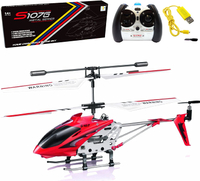 Cheerwing S107 Phantom | was $29.98, now $24.98 at Amazon
This 3-channel remote control helicopter is small but powerful and features a colorful flashing light. It's recommended for people aged 14 years and up, and is best for indoor use only.
Cheap RC helicopters
If you're still undecided about which RC helicopter to pick, we've outlined a selection of affordable models that are ideal for beginners below. Read on for more in-depth information about their specs and features, so you can make an informed purchasing decision!
The Syma S109G RC helicopter is designed to model a real apache helicopter with a funky mouth design on one side. It comes with a transmitter which needs 6 AA batteries (not included), and a USB charging cable to charge the helicopter itself.
The brand says this model needs about 50-60 minutes for 6-8 minutes of flight, which is relatively long but comes with the territory of cheap RC helicopters. Using the joysticks on the remote, you can control the helicopter and make it go up, down, forwards, backwards, and left and right. The maximum controlling distance is about 10 meters.
---
The Cheerwing S107 Phantom mini RC helicopter is branded as super durable and stable. The metal frame can withstand quite a few crashes, making it ideal for beginners. As a bonus, the helicopter charges directly from the controller, which itself uses AA batteries (sadly not included in the price).
Even considering you'll need to buy 6 AA batteries for the controller, the price of this RC helicopter is incredibly low. It's a great gift recommended for kids aged 14+. The only downside is it is meant to be used indoors only, which can be tricky if you've got lots of furniture or fragile things inside. It also limits the amount you can do with your helicopter, which can be a great outdoors hobby.
---
This Vatos RC helicopter features blue LED lights so it can fly in the dark, and it can fly between 6 and 8 minutes with a 45-minute charge. You can control it from a distance of up to 148 ft, a pretty long range for a mini RC helicopter.
This model is designed to be very crash resistant, as it is kitted out with flexible blades, and it has an auto pilot mode, making it perfect for beginners. It's durable and anti-collision too, so you can rest easy when kids are flying it.
What to look for in an RC helicopter
If you're at the beginning of your search for your first RC helicopter, you might be wondering where to start. Luckily for you, we've rounded up some advice below on the things to look out for when looking for a cheap RC helicopter for sale.
Design
Similar to remote control cars or planes, design is an important factor when choosing an RC helicopter. Most look like realistic helicopters, but others like the Syma S109G display some original design features differentiating them from the rest.
Price
Obviously, if you're looking for a cheap RC helicopter for sale, you'll want to keep price in mind. While all the models above are great value, some are cheaper than others, and there are big discounts to look out for.
Features
Most RC helicopters do pretty much the same thing: they fly, hover, and land. However, some are meant for indoor use only, others feature LED lights for flying at night, or an auto-pilot mode.
Flying range
The flying range on RC helicopters varies - some you can control from a distance of 10 meters, while others go up to over 100 meters. You'll want to make sure you have an appropriate range for your needs.
Battery
RC helicopters need plenty of charging time for a few minutes of flight, but some are more efficient than others. Manufacturers usually specify how long you can fly the helicopter from a full charge.
Check out our other related buying guides...
Best remote control cars
Best RC drift cars
Best electric train sets