The Chamberlain B550 is the best midrange garage door opener in our comparison. Although it lacks some of the premium features of our top pick, the Chamberlain B970 – such as a backup battery and lifetime warranty coverage on the lift system and motor – it's still an excellent option for most garages.
This unit costs around $200, which is average for garage door openers. This means it's more affordable than high-end models such as the LiftMaster 8500W, the Chamberlain B970 and the Genie MachForce Connect. It also means that it has better features than budget models, including built-in Wi-Fi, motion-activated lighting and a timer-to-close function.
With 1/2 HP, the motor on the B550 is less powerful than the beefy Genie MachForce Connect, but Chamberlain claims that this horsepower is sufficient for most residential garage doors. However, the motor might not be able to handle heavy wooden garage doors. The lift system is a belt drive, which means it operates more smoothly and more quietly than chain-driven models. Out of the box, this smart garage door opener works on standard 7-foot doors, but it can handle doors up to 10 feet if you buy an extension kit.
Our customer satisfaction research showed that the B550 has an average rating of 4.25 out of 5 stars across 452 customer reviews. Although this is one of the lower ratings in our comparison, it is still a great rating and shows that customers are generally happy with their purchase of a B550.
Customers liked the built-in Wi-Fi, ease of installation, quiet operation and the inclusion of a wireless keypad. Negative reviews focused on the fees associated with certain smart home platforms when you connect them to the myQ smartphone app and the confusing setup instructions.
Because the B550 uses the myQ smartphone app, it has the same smart home compatibilities as the Chamberlain B970, such as Nest, Honeywell and Wink. The unit comes with two three-button remotes, as well as standard safety features to prevent accidents while the door is moving.
The Chamberlain B550 has a shorter warranty than Chamberlain's more premium models. The motor has 10 years of coverage, and the belt has a 15-year warranty. This is an excellent warranty, but it doesn't match the lifetime coverage on more expensive units. The one-year parts warranty is the shortest in our comparison, although that's standard for garage openers under $200.
Need a better alternative?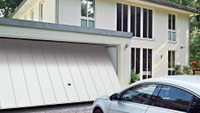 Top Ten Reviews has reviewed the Best Garage Door Openers so that we're able to offer you the authoritative buying advice you expect.