As a budget garage door opener, the Craftsman 54930 doesn't have the features and accessories of more expensive models, which is why it scored lower in our comparison. The simple design makes this garage door opener a great option if you're on a budget, but the short warranty might cause you to reconsider this unit in favor of the Chamberlain C410 or the Genie Chain Drive 500, both of which offer better warranties for a similar price.
Speaking of price, you can buy the Craftsman 54930 for around $140 on the Sears website, making it the second-cheapest garage opener in our comparison. The Genie Chain Drive 500 costs slightly less, at $138. The low price comes mostly from the lack of accessories. For example, this garage opener doesn't have premium features such as a timer-to-close function, motion-activated lighting, a backup battery, an outdoor keypad or Wi-Fi connectivity.
While it's unfortunate that the Craftsman 54930 doesn't have a lot of features, it does come with essential safety features to help prevent the garage door from causing injury or damage. The 1/2-HP motor and chain drive are sufficient for many single- and double-car garages. It also comes with two three-button remotes, which is something you would normally expect from openers costing $200 or more.
Furthermore, our customer satisfaction research revealed that the Craftsman 54930 scored an average of 4.35 out of 5 stars, which shows that customers generally find it a good value. Positive customer reviews pointed out that the unit is easy to install and that it works with existing rails from Chamberlain and LiftMaster. Replacing the rail that holds the chain isn't particularly difficult, but this compatibility means you can save a little time by doing a simple motor swap. Critical reviews noted that the instructions are difficult to follow, so it's a good idea to read them carefully before you start installing the opener.
The worst aspect of the Craftsman 54930 is its warranty. The motor has only four years of warranty coverage, which is the shortest in our comparison. Additionally, the other parts in this unit have only one year of coverage, which is average for budget garage openers.
Need a better alternative?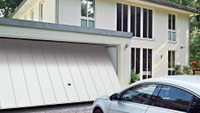 (opens in new tab)
Top Ten Reviews has reviewed the Best Garage Door Openers so that we're able to offer you the authoritative buying advice you expect.