The Craftsman 57915 outperforms most cheaper competitors. However, this garage door opener struggles to keep up with other smart garage door openers in its price range because of a shorter warranty and limited smart home options. Its best attributes are a relatively powerful 3/4-HP motor and a quiet belt-driven lift system. It also includes plenty of accessories that don't usually come with budget openers, such as a wireless keypad and a pair of three-button remotes.
You can buy the Craftsman 57915 for around $230, which is about $30 more than the industry average. In contrast, the Chamberlain B550 costs around $200 and has all of the same features, better smart home connectivity and a better warranty.
This unit comes with motion-activated lighting and a timer-to-close feature, both of which are fairly premium features. The Craftsman 57915 also has built-in Wi-Fi, so you can control the opener from your smartphone using the Craftsman Smart Garage Door app. This acts as another remote for your system and lets you give access to guests when you're away from home. Even with a Wi-Fi connection, you can't link the Craftsman 57915 to any smart home platforms (like Amazon Alexa, Apple HomeKit or Google Assistant), which makes it less appealing than Chamberlain's openers that use the myQ app. If your car has a built-in HomeLink garage door remote, the 57915 should work with it, though older vehicles might require an adapter.
Our customer satisfaction research revealed that the Craftsman 57915 was good enough for most users. It had an average rating of 4.1 out of 5 stars across 45 reviews, which was the second-lowest rating in our comparison. (The lowest-scoring opener was the RYOBI GD126, which had an average rating of 3.2.) Positive reviews focused on the Wi-Fi, quiet operation, timer-to-close function and easy installation. In contrast, critical reviews noted the lack of smart home connections and the remotes' incompatibility with other garage opener brands.
The warranty on the Craftsman 57915 covers the motor for 10 years, which is good for the price. However, the warranty on the belt and parts is only three years. Although the parts warranty is better than that of most competitors, the belt warranty is shorter than the lifetime and 15-year coverage found on the Chamberlain B970 and Chamberlain B550, respectively.
Need a better alternative?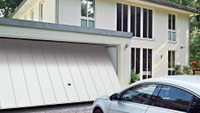 Top Ten Reviews has reviewed the Best Garage Door Openers so that we're able to offer you the authoritative buying advice you expect.