The Genie Chain Drive 500 is the most affordable garage opener we evaluated, costing less than other brands. However, it has solid customer reviews that say it's worth the cost, if you're willing to give up some features and accessories for a simple, reliable garage door opener. While its warranty isn't amazing, it's better than that of its closest competition.
At $138, the Genie Chain Drive 500 is the cheapest garage opener among the 11 models we looked at for our comparison. Granted this is only $2 cheaper than the Craftsman 54930, but it's also $62 cheaper than the average garage opener. This unit has a 1/2 HP motor with a chain-driven lift system, which means it's a durable option for most garages, even if it's a bit louder than units with other types of garage door lift systems.
The Genie Chain Drive 500 surprised us when we looked at customer reviews. In fact, it has a remarkable 4.5 out of 5 stars from customers across 148 reviews. This is the third-highest customer satisfaction rating among the openers we evaluated. Customers praise the unit for its affordability, ease of installation and that it's quieter than older chain driven openers.
Negative reviews focus on the lower quality of the opener's parts, though it's not unexpected since the unit lacks a robust warranty. The motor is covered by warranty for five years, which is the second-shortest motor warranty in our comparison, and certainly doesn't match the lifetime warranties of more expensive smart garage openers. While the warranty on the chain is also five years, it's better than the one-year warranty we found on other chain-driven lift systems in our evaluation. The parts warranty is understandably short at one year, matching that of other budget garage openers.
As a budget garage opener, this unit doesn't come with any premium features such as timer-to-close, motion-activated lighting, a backup battery, wireless keypad or Wi-Fi. However, you can purchase accessories such as Wi-Fi adapters, outdoor keypads and a control panel with timer-to-close functionality if you want them, though this will negate some of the money you save by buying the cheapest garage door opener. If you want better features for about $20 more, you should consider our pick for best value: the Chamberlain C410.
The Genie Chain Drive 500 comes with one remote control with a single button. This means you can only control one garage door unless you purchase a remote with more buttons. Likewise, if you want additional remotes, you'll need to buy them separately.
Need a better alternative?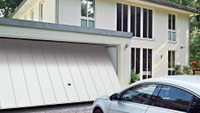 (opens in new tab)
Top Ten Reviews has reviewed the Best Garage Door Openers so that we're able to offer you the authoritative buying advice you expect.