Although Skylink has been around since 1990, it's the least-known manufacturer of garage openers in our comparison. Similarly, we had trouble finding the same Skylink Atoms model at multiple retailers. We chose to evaluate the AT-1622BK, a 1/2-HP belt-driven model you can get on Amazon, though similar models are available at Home Depot and Lowe's.
The best thing about Skylink Atoms garage door openers is that every model comes with LED lights, which are uncommon on garage door openers from mainstream brands like Chamberlain and Genie; only the most expensive models from these brands offer LEDs. Granted, many brands don't use LEDs for fear of radio interference, but this is a feature that should be standard in 2019.
The other thing that differentiates Skylink Atoms is that it works with the Amazon Alexa and IFTTT smart home platforms, provided you have the SkylinkNet base station, which adds Wi-Fi functionality to Skylink Atoms garage door openers. That's right: Skylink Atoms is the only garage opener brand that's natively compatible with Amazon Alexa. While it's true that you can use Alexa with other opener brands if you have a smart garage controller such as Gogogate2 or Nexx Garage, either of these products will add $100 to the garage opener cost.
Our customer satisfaction research for Skylink Atoms revealed an average rating of 4.15 out of 5 stars, which means people generally like this brand. Unfortunately, we found only 34 customer reviews, so this rating may not accurately reflect the unit's overall quality. Positive reviews focused on the opener's quiet operation and Skylink's excellent installation tutorials. The few negative reviews pointed out that the instructions for connecting the keypad were difficult to understand and that customer service is hard to contact.
Skylink Atoms garage door openers, such as the belt-driven AT-1622BK, cost between $175 and $200, making them less expensive than other belt-driven openers. This opener comes with a timer-to-close feature but lacks a backup battery and Wi-Fi connectivity (although you can buy them separately). The unit doesn't have motion-activated lights, and there's no option to add them. The AT-1622BK comes with a wireless keypad and two single-button remotes.
The weakest aspect of Skylink Atoms garage door openers is the warranty, which provides six years of coverage on the motor but only one year on both the belt lift system and the other parts. For comparison, the more affordable Chamberlain C410 has 10 years of warranty coverage on its motor.
Need a better alternative?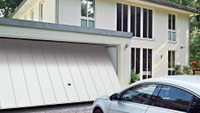 (opens in new tab)
Top Ten Reviews has reviewed the Best Garage Door Openers so that we're able to offer you the authoritative buying advice you expect.