The 3/4-HP Sommer Direct Drive is powered by a motor that, unlike those on most garage openers, moves along the rail with only one moving part. This type of lift system is called a direct drive, which uses a stationary chain that's quieter and faster than most other types of garage openers. The motor is located on the carriage by the connection to the garage door, rather than at the back of the opener, and moves along the railing with a single moving part.
Although this is an unconventional design, the 3/4-HP motor is strong enough to lift most garage doors. The included rail works with a 7- to 8-foot door, and you can buy a separate extension that accommodates doors up to 14 feet. The Sommer Direct Drive also includes safety features that automatically stop and lift the door if it encounters a person or object while closing.
Our customer satisfaction research revealed that the Sommer Direct Drive was the second-most-popular unit in our comparison, with a total of 1,289 reviews. Only the Chamberlain B970 was more popular, with 1,903 reviews at publication time. The Sommer Direct Drive also has the second-highest customer rating in our comparison, with an average score of 4.55 stars out of 5; only the Genie MachForce Connect had better customer reviews.
Positive customer reviews praised the Sommer Direct Drive for its smooth and quiet operation, ease of installation and great installation tutorial videos. Common complaints included that the buttons on the remotes were too small and that the installation required more than swapping out an old Chamberlain or Genie model for a new one because the lift systems are incompatible.
This garage door opener includes two thin remotes, a wall control panel and a pair of infrared light sensors. The buttons on the remotes are tiny and can be hard to press. The control panel is also slim and has three buttons to turn on the lights and open or lock the door.
Unfortunately, the Sommer Direct Drive doesn't come with a wireless keypad to place outside the garage. It's also missing motion-activated lighting, battery backup, timer-to-close functionality and built-in Wi-Fi. Sommer doesn't make a Wi-Fi adapter, so you'll need to purchase a third-party smart garage controller – such as myQ, Gogogate2 or Nexx Garage – if you want Wi-Fi or smart home compatibility.
Sommer covers the whole opener – including the motor, railing and other parts – with a lifetime warranty. It is rare to have lifetime warranties on all of the components, giving the Sommer Direct Drive the best warranty in our comparison.
Need a better alternative?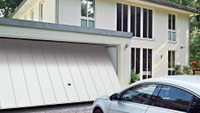 Top Ten Reviews has reviewed the Best Garage Door Openers so that we're able to offer you the authoritative buying advice you expect.