Black Friday Roomba deals 2023
Best sales & deals to shop:
1. Quick links
2. Best deal
3. Power tools
4. Refrigerators
5. Washers & Dryers
6. Dishwashers
7. Dates & details
8. Buying advice
Home Depot Black Friday deals are now officially here, from refrigerators to DIY project essentials, and you can save big on everything you need to conquer your home improvement goals. So, if you're already searching for top-notch appliances or power tools from your favorite brands, you're in the right place.
Black Friday deals aren't limited to just the day itself, so don't miss out on taking advantage of these early offers. We've also rounded up all the best Black Friday appliance deals worth a space in your shopping cart.
Home Depot is also running the 'Buy More Save More' sale on appliance packages when you buy two or more select kitchen appliances. You can even double your savings when buying from the same qualifying brands, so it's worth checking out.
As the sales continue, we'll be keeping an eye out for the very best deals between now and the end of Black Friday (and Cyber Monday), so you don't have to sift through all of the offers yourself.
Home Depot Black Friday deals: Quick links
Home Depot Black Friday deals: The best deal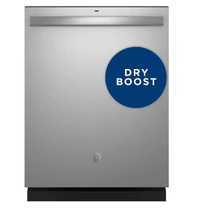 Home Depot Black Friday deals: Power tools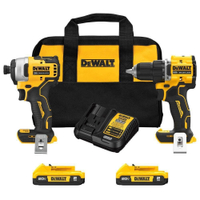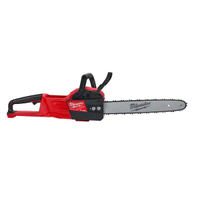 Milwaukee M18 FUEL Brushless Battery Chainsaw Kit + M18 GEN II FUEL Blower | was $628, now $449 at Home Depot (save $179)
This Milwaukee bundle includes an M18 FUEL Chainsaw and a free M18 FUEL Blower - all for $179 less. The chainsaw is battery-powered and can cut hardwoods faster than gas, providing up to 150 cuts per charge. It also comes with an M18 FUEL Blower, which has the power to clear from 15 ft and is up to 4 lbs lighter than competitors. A battery pack and charger are thrown in for good measure.
Price Check: Amazon $628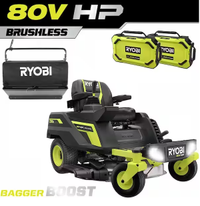 RYOBI 80V HP Brushless 30 in. Battery Electric Cordless Zero Turn Mower | was $5,501.34, now $3,999.00 at Home Depot (save $1502.34)
Take advantage of a fantastic deal and save 27% on a piece of top-quality yard equipment that is sure to serve you well for years to come. This exceptional product boasts the innovative iDrive Intelligent Joystick Drive System and includes a 30 in. zero-turn mower, batteries, and a Bagger Boost accessory that allows you to quickly clear the chute with the press of a button.
Price check: RYOBI tools $4999.00
Alternative pick: 54" 115 AH ZERO TURN ELECTRIC RIDING LAWN MOWER
Home Depot Black Friday deals: Refrigerators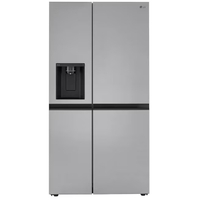 LG LHSXS2706S Side by Side Smart Refrigerator | was $1,943, now $1,198 at Home Depot (save $745)
This LG Side by Side Smart Refrigerator is a must-have, with its spacious 27 cu. ft. capacity, slow-melting craft ice, and dual ice makers. The ThinQ technology lets you control key features from anywhere, and the pharmaceutical water filter means that you get fresher and cleaner drinking water. The refrigerator is designed to maintain humidity and temperature levels to keep your food fresher for longer, and the energy-efficient design ensures that you save money on your electricity bill. Don't miss out on this amazing deal at Home Depot!
Price Check: Only at Home Depot
Alternative Pick: Whirlpool WRS315SDHM Side by Side Refrigerator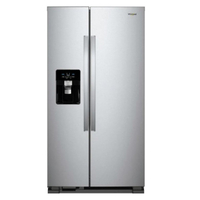 Whirlpool WRS325SDHZ Side by Side Refrigerator | was $1,799, now $1,148 at Home Depot (save $651)
Home Depot is offering the Whirlpool 25 cu. ft. Side by Side Refrigerator for $1,148, reduced from $1,799. The sleek refrigerator with fingerprint-proof stainless steel finish offers flexibility in organization with features like a flexible in-door can caddy and frameless glass shelves. A good discount of $501.
Home Depot Black Friday deals: Washers & dryers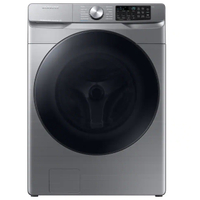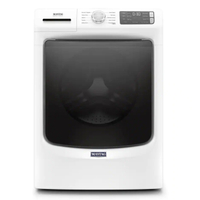 Maytag MHW5630HW Stackable Front Load Washer | was $999, now $678 at Home Depot (save $321)
With ENERGY STAR certification, you can feel confident that this washer will save you energy (and money) in the long run. Meanwhile, other exciting features include the 12-Hour Fresh Spin option to protect against wrinkles and the Extra Power button to boost stain-fighting performance on any wash cycle.
Price Check: Maytag $679; Best Buy $679.99
Alternative Pick: LG WM3400CW Stackable Front Load Washer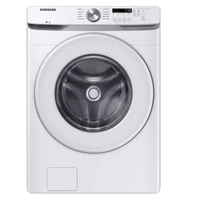 Samsung WF45T6000AW Front Load Washer | was $899, now $628 at Home Depot (save $271)
Are you not a fan of noisy washing machines? This Samsung washer is equipped with Vibration Reduction Technology+, designed to reduce noise and vibration for a quieter experience. Meanwhile, the Self Clean+ technology will notify you every 40 cycles that it's time for a cleaning – and then eliminate 99% of bacteria that can form in the washer drum.
Price Check: Amazon Out of Stock; Best Buy $629.99
Alternative Pick: LG WM3400CW Stackable Front Load Washer
Home Depot Black Friday deals: Dishwashers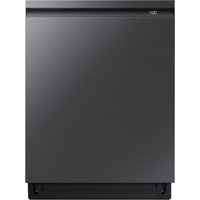 Samsung Smart Dishwasher | was $1,079.99, now $698 at Home Depot
This Samsung dishwasher has Smart Dry and Auto Release Door technology that uses warm air to dry dishes 2.5x better than a typical dishwasher. It operates at a whisper-quiet 42dBA, so you can wash dishes anytime, even while entertaining. Plus, it's ENERGY STAR certified and recognized as the most efficient for energy efficiency.
Price check: Best Buy $699.99
Alternative pick: Samsung Bespoke Dishwasher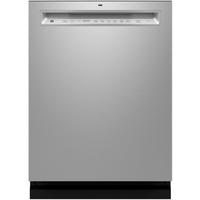 GE GDF670SYVFS Built-In Tall Tub Dishwasher | was $999, now $598 at Home Depot (save $401)
The GE Built-In Tall Tub Dishwasher offers a variety of features such as Deep Clean Silverware Jets, Dry Boost Technology, and 4 Bottle Wash Jets. The appliance is designed with super-silent operation and a high-temperature cycle that will save you time by steaming and sanitizing your dishes.
Price Check: GE $599
Alternative Pick: LG 24 in. Stainless Steel Front Control Dishwasher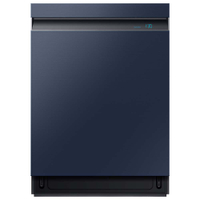 Home Depot Black Friday deals: Dates & Details
When is Black Friday 2023?
We have a date: November 24. However, we can predict that the early sales will launch much sooner, as they have. This happened last year, which was owed to Amazon's 2nd Prime Day sale.
Since the second installment of Amazon Prime Day deals this year on October 10 - 11, we saw a swath of competing sales from retailers, which has kick-started the holiday shopping season. We may even see some deals continue to 'stick' from the time of Prime Big Deal Days through to Cyber Monday, although product availability is the influencing factor on just how long these discounts will hang around.
What is Black Friday?
Black Friday traditionally signifies the start of the holiday shopping season in the US, with almost all retailers - both in the malls and online - slashing prices to persuade shoppers to buy holiday presents early. Almost everything is up for grabs, with the best Black Friday deals taking in electronics, clothes, toys, home furnishings, cookware, and much more.
The best Black Friday deals can see 50%, 60%, or even 70% discount off the hottest items. Last year, Black Friday shoppers spent $7.4 billion online alone, making it the second largest internet shopping day ever, while billions of dollars more would have been splurged in stores across the US. However, Black Friday deals do not stand alone, with Cyber Monday now offering just as many buying opportunities - indeed, the $7.9 billion spent online across Cyber Monday 2018 is the best-selling day ever in terms of online revenue. The Cyber Monday deals can sometimes be even better than Black Friday, particularly if retailers are keen to shift on any remaining stock.
Home Depot Black Friday deals: Buying advice
How to get the best Black Friday deals?
We're not newbies to helping our readers shop for the best Black Friday deals. In fact, we have a few tips and tricks to help you save on your most wanted products and devices. These tips will help you secure the best Black Friday deals prices, which can apply to holiday sales going forward.
Check different retailers
If you're targeting one item in particular, remember to look for it across as many websites as you'd expect to find it. This is because not all retailers will discount to the same degree or begin from the same starting price - as with every day, out-of-sale shopping. This can lead to differences between the prices of the same item at various sites, so it is always worth checking.
Look at CamelCamelCamel
A highly useful tool for Black Friday and Prime Day, CamelCamelCamel tracks the prices of items sold on Amazon. So, if you're looking to buy from Amazon, you simply input the name of the product you're looking at (or copy and paste the URL), and you'll be able to see how the offer price compares with what it has been before. While it's likely that Black Friday will prove the lowest price it has ever been, it doesn't hurt to check!
Start your research now
It's never too early to compile a shopping list of the items you're thinking of buying across the holiday season. If you have the time, check to see what price things are selling for now, so when Black Friday comes, you'll have a better idea of whether you're getting a really good deal. What you want may already be in a sale now, in which case you might have the chance to snap up a bargain before the hordes descend on malls and online on Black Friday itself.
Bookmark this page
Thought of trying to keep watch on all manner of retailers filled some people with dread, which is why we compiled this one-stop-shop of all the best Black Friday 2020 deals, giving you a flavor of the type of Black Friday discounts and deals you could have expected on the big day, and ahead of the event too.
Where can I find the best Black Friday deals?
We'll be looking out for the best Black Friday deals, so your best option is to bookmark this page since we'll be amongst the first to hear when any deals land. This page will be updated throughout the main event and as we approach Cyber Monday. Keep checking back to this list of retailers who tend to have some of the best Black Friday deals going:
What to expect during Black Friday 2023
With a second installment of Amazon Prime Day now said and done, it can only mean one thing: the best Black Friday deals are coming. Last year, the Amazon Prime member-only event landed a few weeks before Black Friday, which acted as a fantastic teaser to access early deals.
Despite the tough economic conditions, retailers continue to be keen to get involved with Black Friday, with some cutting prices to the lowest ever. This makes it a great time to get the latest gadgets on the market. Appliances can attract some of the biggest discounts year after year, whether it's a new washing machine or dishwasher.
Retailers are looking to move this year's models on before stocking up on the latest ones, so if you're not fussy about getting the latest appliances to hit the market, Black Friday is a great time to buy. Our best Black Friday refrigerator deals and Black Friday washing machine deals pages will be worth watching, too.
Cool gadgets like the Instant Pot, slow cookers, and immersion blenders are often hot buys as Black Friday nears simply because it's comfort food season! Black Friday kitchenware deals are a great incentive to step up your cooking game, especially if you expect many people around the holidays. Treat yourself to the popular Instant Pot, a blender, or even a rice cooker at crazy low prices!
Need new furniture? We've seen everything from love seats to dining sets on sale for Black Friday. It's one of the best if not the best, time of year to replace all your old furniture – and just in time for all your friends and family coming over for the holidays. Or maybe there are some new mattress deals that you'll be eyeing up - why not get ahead of the game and look at our round-up of the best Purple mattress deals, the best Casper mattress deals, and the best Saatva mattress discounts?
What would the holidays be without gifts? And if there's a tyke or two on your gift-giving list, you may want to read up on the season's hottest toys. Yes, that's right - every year, parents fight over the best toys, and believe it or not, many do sell out. Black Friday is hands down the best time to start your holiday shopping, especially for children and babies!
Black Friday vs Prime Day
When it comes to scouting for Amazon Prime Day and Black Friday deals, these major shopping events will have the products and/or devices you want for less. There are a couple of key differences, however:
The biggest difference is that Amazon Prime Day provides exclusive discounts and offers only for their Prime members, whereas other retailers share discounts and deals during Black Friday with all shoppers. The timings of the two events are different, too, with Prime Day running two events in the year of late - one in the summer and the other in the fall - with Black Friday historically taking place on the last Friday of November.
Until recently, Prime Day was a fantastic opportunity to buy smart home devices such as the best video doorbells, smart speakers, and smart lights. Black Friday was an opportunity to obtain large appliances, furnishings, mattresses, and other household goods. However, with Prime Day now becoming a fixture not once but twice a year and a growing demand, brands listed with Amazon are jumping on the bandwagon so that you can get your hands on a wider selection of products.
It feels like Amazon timed their Big Deal Days in October 2023 to act as a teaser to Black Friday, as they did last year. This means you'll likely see greater discounts on Amazon before Black Friday, which are exclusive to their Prime members and, therefore, act as a reward for being a member. This doesn't mean other retailers won't offer competitive deals and discounts for Black Friday 2023.