The Home Depot Refrigerator Sale is on right now and you can get top fridges including the Frigidaire 4 Door Refrigerator for under $1000. Kicking off some unbeatable Black Friday Refrigerator Deals, the Home Depot Refrigerator Sale includes savings on some high-end refrigerators bringing them down to prices you won't want to miss.
The Frigidaire 4 Door Refrigerator, for example, has 10% off and is available for $989 - an impressively low price for this type of refrigerator. It's rare to see the best French door refrigerators reduced below $1500, let alone $1000 so this deal is bound to be snapped up if you don't act fast.
If you'd rather one of the best side-by-side refrigerators, the Home Depot Refrigerator Sale also includes $110 off the Frigidaire Side-by-Side Refrigerator right now.
Both the French door fridge and the Frigidaire side-by-side are ideal for families as they offer plenty of internal space and flexible storage solutions too. If you're looking for something bigger still, check out Home Depot's Refrigerator Sale via the link below.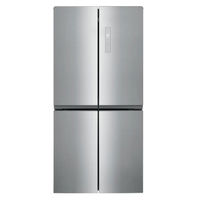 Frigidaire 17.4 cu. ft. 4 Door Refrigerator: $1099 now $989 at Home Depot
Bag yourself a bargain with this French door fridge in the Home Depot Refrigerator Sale. With 10% off, you're getting a spacious refrigerator complete with a stylish brushed steel finish, flexible storage drawers, and a spacious freezer bottom half. It's rare to see a French door fridge for a price this low, so grab it while you still have the chance.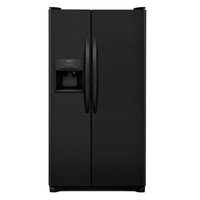 Frigidaire 25.5 cu. ft. Side by Side Refrigerator in Black: $1099 now $989 at Home Depot
Priced at under $1000, this spacious refrigerator is a real bargain. For what you pay, you'll end up with a large family fridge featuring an in-built ice and water filter. The door bins are gallon sized, making them ideal for storing bulky bottles, and the clear drawers make it easy to see what food you have.
Effortlessly stylish, the Frigidaire 4 Door French Door Refrigerator will be a great addition to your kitchen and it's practical too! There are two adjustable shelves that can also be wiped clean with ease, and the gallon door bins are spacious enough to fit in large juice and beverage containers. Having all of your refrigerator food at eye-level means you'll be able to assess exactly what you have in your fridge and nothing should get left behind.
The freezer on the Frigidaire 4 Door French Door Refrigerator is also well-designed for easy storage. There are two pull out drawers and four pull out storage bins. What's more, you'll be able to store bulky items and organize them neatly to suit your needs.
If you need a bigger capacity, then the Frigidaire 25.5 cu. ft. Side by Side Refrigerator is the one for you. The built-in ice maker filters your water and has five different functions including crushed ice for refreshing drinks. For keeping dairy extra fresh, there's a handy covered compartment at the top of this refrigerator and the freezer section has spacious shelves so you don't need to worry about squeezing items in.
More great Frigidaire refrigerator deals
Want to save money on other home appliances? Head to our round up of Black Friday washing machine deals. We've also rounded up the best Black Friday USA deals for 2020 - which includes early price-cuts from around the web.