With a calendar, task list, address book, password manager and word processor, C-Organizer provides you with the tools you need to organize your life. Unlike most organization software, C-Organizer offers a variety of synchronization options that make it possible to access your data from almost any device.
When downloading and testing C-Organizer, we found it was easy to navigate and locate the various organizing tools within the interface. This straightforward application features the standard tools such as a calendar, to-do list, address book, password manager and word processor.
The program's calendar has several features which improve its usability. For instance, you have the ability to plan your day as well as set up repeating events such as birthdays, anniversaries or even weekly meetings. This personal organizer software has a built-in notification system that can send you an email when something comes due in your calendar. You also have the option of setting up an on-screen alert, which pops up on your computer screen to remind you of scheduled appointments. You can set those reminders at a custom time interval, whether you want to be reminded days before a birthday or 15 minutes before a meeting. If your schedule changes, you can simply drag and drop the event to a different date.
In addition to the calendar, the software includes a to-do list you can use either at home or work. You can create categories for your tasks and even break those down into sub-tasks. In order to promote efficiency, you can set priority levels for your various tasks to make sure you complete the most urgent ones first. You can also create cross-links between your calendar, to-do list and contacts, which is particularly helpful if you need to, say, contact the presenter before your meeting.
Like most organizers, C-Organizer has an address book where you can store contact information. Besides phone numbers, addresses and email addresses, one nice feature is its ability to add photos to your contacts, webpages, descriptions and attachments. You can also email or call your contacts using links located in the program.
This planner software also includes a word processor you can use to either take notes or use as a diary. Either way, you can filter through your notes by category or date modified. In addition to the standard organizing tools, this software allows you to back up its database both manually or automatically to ensure you don't lose any of your important documents. You can also access accidentally deleted files using the recycle bin.
This personal information manager protects your private information by password and encryption to prevent unauthorized access. Also included with this calendar organizer is the ability to store all of your passwords and logins for the numerous websites you visit on a daily basis. Not only does this offer a secure place to store your passwords, but you can categorize them as work or personal in order to find them easily. This organizer software, along with MSD Organizer, also has a password generator that can help you create a strong password.
C-Organizer offers a variety of synchronization options. You can sync your software to Google services as well as upload it to the cloud via Dropbox, Google Drive or a similar service. Using either of these options gives you the ability to access your information from any connected device. C-Organizer also syncs to Windows smartphones and Palm-compatible devices. If you need to import your organizing software data into another application, C-Organizer can also do this: It lets you export your data as TXT, DSV, HTML and XML files.
Unfortunately, CSoftLab, the application's publisher, does not list a technical support phone number on its website. Instead, the site lists email addresses for technical support, sales and feedback. We reached out to technical support and found they were quick to respond to our inquiries and very helpful. The website also provides access to a user guide and a frequently asked questions page.
C-Organizer Pro offers standard organizing tools with extensive functionality while still being very easy to use. Additionally, the various synchronization options make it one of the best organizers in our comparison. If you need an organizer capable of keeping up with you wherever you go, C-Organizer is a good option.
Need a better alternative?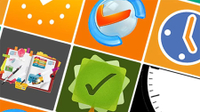 Best Organizer Software of 2019
Top Ten Reviews has reviewed the Best Organizer Software of 2019 so that we're able to offer you the authoritative buying advice you expect.