LeaderTask's personal organizer is a good option for managing documents and making long-term goals. With a focus on task management, this organizer software works well in professional environments with projects, to-do lists and planning sessions. However, it lacks more personal tools like a journal or the option to list holidays on its calendar feature.
LeaderTask's interfaces for both its desktop and mobile applications are clean and easy to navigate. Some of the software's advanced task management features are complicated to learn; however, they also offer more functionality than most of the other organizers on our lineup. It also allows you to automatically back up your data upon exiting the program, which ensures your data is protected.
With a focus on project management, this software has extensive to-do list features. You can customize how you want to display your daily tasks, whether you filter them by category, project or progress. You can plan your days, weeks, months and years all in the form of a task tree. Because of this arrangement, you are able to create tasks and goals and organize them in a pyramid-like structure. This enables you to break long-term tasks down into smaller, more manageable tasks. You can also set priority levels for each task as well as add notes.
LeaderTask's calendar feature helps you manage your time so you complete all of your tasks each day. While you can insert birthdays and holidays manually, it functions more as a professional planner, displaying the meetings and tasks you must complete. If you need to reschedule for whatever reason, you can simply drag and drop the event to a new day and time. You can also create recurring events for those weekly meetings and set up custom reminders for your tasks and events.
This planner software also helps you organize contacts. Like most organizers, it allows you to input the name, phone number, address and email of each of your contacts. You can add a photo as well. This software also allows you to assign your contacts to certain projects. For those projects, you can immediately communicate with your contacts using the discussion toolbar that works like an instant messenger.
This organization software does not feature personal organizing tools. For example, it does not have a built-in journal, budget template or password manager. While it does not have a place to store your passwords, you must create a username and password in order to use LeaderTask and gain access to your data.
One of LeaderTask's best features is its mobility. With both an Android and iOS app, the software is accessible from multiple devices, as is the case with C-Organizer Pro. The app is easy to use and puts all of your important data right at your fingertips. In addition, the software is a standalone program, so you can save it to a flash drive, Dropbox, Google Drive or similar program. All of the data you enter into the software is stored in and protected by the Microsoft Azure cloud, where you can also access it.
By using the personal information manager in this organizer software, you are able to store several types of data in the database. You can include many types of media, including images, text and documents.
LeaderTask has several support options in place. You can contact technical support by email or phone. We found that the support representatives were helpful and prompt in their responses. You can also reference the user guide for help; however, it is not available on the website. You must access it from inside the application. In addition to these support options, you also can access the user forum and talk with other users.
With plenty of project management tools, LeaderTask organizer software is geared toward professionals. While you can still use it as a personal organizer, its features are limiting. The software does not feature a built-in journal, budget template or password manager.
Need a better alternative?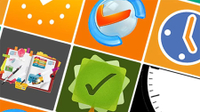 Best Organizer Software of 2019
Top Ten Reviews has reviewed the Best Organizer Software of 2019 so that we're able to offer you the authoritative buying advice you expect.