Organizer Pro has an identical interface and organizing tools as our top-rated organizer, AnyTime Organizer Deluxe, with the exception of its synchronization capabilities. Organizer Pro does not integrate with apps or sync to Google, limiting its use to one device. However, it is a more affordable option and offers many of the same tools as the best program.
In our tests, this organizer software was easy to learn. With a clean interface and the organizing tools available on the left panel of the program, we were able to navigate the software with ease. This software houses important data, so we appreciate its ability to back up your data both automatically and manually. Organizer Pro offers standard organizing tools such as a calendar, address book, to-do list, notebook and password manager, as well as additional tools like expense reports and a world clock.
The planner software's calendar allows you to add meetings, events and appointments with ease. To improve efficiency, you can use the recurring events feature to set up weekly meetings. At the same time, you can create custom reminders at specific time intervals. If you need to reschedule any of your events, you can drag and drop them to new dates and times. The software is built to notify you if you have events with conflicting times, allowing you to reschedule if necessary.
This organizer software has a standard to-do list where you can view the date it was created, due date, description and category it falls under at a glance. You can also assign priority levels to each of your tasks so that you complete them in the most efficient manner. It also has an address book that lists your contact's name, company and phone number. You can add photos to each of your contacts so that you can put a face to each name.
The personal information manager also has a notebook you can use to either take notes or use as a journal. In addition to the organizer's standard features, it also has a budget template you can use to track and organize your expenses, as well as world clocks you can use when working with clients in different time zones.
In order to protect your personal data, the software gives you the option of requiring a password to access the program. This feature is particularly important if you use the password manager to store your usernames and passwords to online applications.
As is the case with LeaderTask, Organizer Pro does not synchronize with iOS or Android systems. It also does not offer cloud services or integrate with Google. In other words, you can only access the software from the computer you downloaded it on. This limits when and where you can access your information, which can be problematic. While the software's synchronization capabilities are limited, you can export a variety of documents, which is useful when you want to upload it to a different application. It exports TXT, CSV and PDF files.
This personal organizer software has multiple support options in case you need assistance. The company's website lists an email address and phone number for technical support. We suggest calling the company for immediate issues as it took support staff multiple days to respond to our requests by email. You also can use the frequently asked questions page to find answers to common problems, as well as the user guide.
With the exception of synchronization capabilities, Organizer Pro offers the same organizing tools as our number one product at a more affordable price. While the inability to access your data from multiple devices restricts this software, its features and security options make it a solid organizer to house your important documents. However, if you need to access your contacts, calendar or data on the go, we suggest using our top-rated software with a companion mobile app, or one that can integrate with apps or cloud services.
Need a better alternative?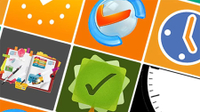 Best Organizer Software of 2019
Top Ten Reviews has reviewed the Best Organizer Software of 2019 so that we're able to offer you the authoritative buying advice you expect.