There are plenty of things to worry about right now, but keeping in touch with family and friends shouldn't be one of them. If you're self-isolating or longing to talk to family from around the world, Facebook Portal is here to bring you closer, and you can now get it with an impressive 55% off. Right now, you can get the Facebook Portal Gen 1 for $89 - that' means you're saving $110. You'll have to act fast if you want to snap up this great deal, as it ends on March 25. Just use our code 'MARCHMANIA' at checkout and snap up a great deal.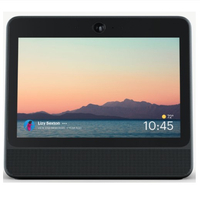 Facebook Portal Gen 1: $199 $89 at Facebook, with code
Save $110 when you use our code 'MARCHMANIA'. The Facebook Portal lets you communicate with loved ones with built-in Alexa, as well as Whatsapp and Messenger compatibility.
Deal ends March 25.
The Facebook Portal lets you video call loved ones, listen to music, check your front door and display your favorite photos in its convenient photo-frame design. There's also the option of interactive AR masks which disguise you as fantasy characters, a much-loved feature for kids and adults alike.
The best smartphones will let you video call, but they won't give you the freedom to sit back and interact with your family in any room of the house. The Facebook Portal lets you move about and relax, making you feel like you and your loved ones are in the same room.
This is a great exclusive sale that ends on March 25, so now's the perfect time to invest and bring your family closer.