Stuck inside with nothing to do? Have you exhausted all of your lists on Netflix, Hulu, and more? Then turn to Sling TV for your TV and video on-demand needs. We recently reviewed Sling, and find it to be a great subscription if you want to have cable TV channels without a fixed TV set. That's right: Sling will allow you to watch live TV with a subscription, without paying cable prices.
And now, Sling has some great offers for you to take advantage of. If you love Star Wars, you can watch select Star Wars movies for FREE with Sling TV May 4th through May 10 - no credit card required. That's right! You can watch the following Star Wars blockbusters for free with a few clicks. Movies available are:
Star Wars: The Phantom Menace
Star Wars: Attack of the Clones
Star Wars: Revenge of the Sith
Rogue One: A Star Wars Story
Star Wars: A New Hope
Star Wars: The Empire Strikes Back
Star Wars: Return of the Jedi
Star Wars: The Force Awakens
Star Wars: The Last Jedi
How to watch Star Wars on Sling TV
To watch 'Stars Wars' movies on Sling TV, all you need to do is access the Sling TV site, go to the "May the 4th Be With You" banner in the "My TV" or "On-Demand" tab, or use the search function.
Each time you watch, you'll be entered to win an autographed lightsaber from Mace Windo! The more you watch, the more chances you'll get!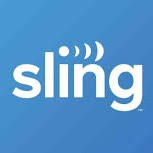 Sling TV: now free between 5pm and midnight
Sign up for a Sling TV account and you're all set to enjoy over 50 channels streaming live during the service's 'Happy Hour', plus watch select 'Star Wars' movies for free on-demand.
Sling TV Happy Hour
Not a 'Star Wars' fan, but still want to watch live TV? Sling is offering a selection of channels for free everyday from 5pm to 12am. All you need to do is sign up for a Sling TV account - no credit card required. If you love Sling TV and want to sign up, get $10 off your first month for a limited time. You can sign in on your Chromecast, AppleTV, or other devices and enjoy channels the whole family will love - there's a little something for everyone, from CNN to HGTV to Nick Jr.