Stuck inside due to the coronavirus? Fear not, it's won't all be doom and gloom as you can save a huge $120 on this 38-bottle Frigidaire wine cooler at bestbuy.com (opens in new tab).
Reduced to $369.99 and down from $489.99, the stainless steel wine cooler provides the perfect place to store your selection of wine and save on space in your food fridge - which you'll be needing for all your other essentials right now.
With an internal light and stylish frontage, the best wine coolers (opens in new tab) will also be ideal for celebrations, even if you're stuck in lockdown. With summer not too far away, this fridge is great for making sure you've got lots of cold wine for guests (and you) to enjoy when it comes to barbecue season.
And what better time to buy a wine cooler? Along with the more obvious rise in panic buying, toilet paper sales and people stocking up on groceries, market researchers, Nielsen (opens in new tab), reported a 66% increase in wine sales for the week ending March 21, compared to the same week in 2019.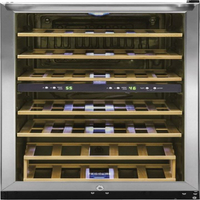 (opens in new tab)
Frigidaire 38-Bottle Wine Cooler: was $489.99 | now $369.99 at Best Buy (opens in new tab)
Save $120 on this 38-bottle wine cooler, ideal for stocking up on wine during self-isolation and lockdown. Available with free delivery, this wine fridge also has two temperature zones.
This freestanding Frigidaire comes with free shipping and a choice of warranties, for an additional fee. Able to hold 38 750ml bottles of wine, the fridge is ideal for stocking up and for parties and gatherings once life returns to normal.
What's more, the wine cooler has two different temperature zones so that you can keep white wine cool and keep red wine at its optimum temperature. It also features five wooden shelves, providing a sturdy base for your booze.
And it's not only wine that has been flying off the shelves and seeing record sales online, Americans stuck in self-isolation have also been taking to the kitchen to get baking, with the best stand mixers (opens in new tab) hard to come by, along with pasta makers (opens in new tab) and bread makers (opens in new tab) also seeing a rise in popularity.