Black Friday air purifier deals are everywhere right now, but one that really caught our eye is the Molekule Air, now reduced to $649 at Best Buy. Featuring in our round up of the best air purifiers, the Molekule Air is sleek and stylish, and well, doesn't look anything like an air purifier really.
Available now with a discount of $150, the Molekule Air is also different from the other air purifier deals we've spotted and that's because this handsome machine aims to not only collect mold, bacteria, and viruses, but it also claims to destroy them completely before pushing clean, purified air back into your room.
Air purifiers that work in this way or ones that use a HEPA filter, do help to reduce the number of pollutants and virus particles in your home and can have a big impact on the indoor air quality, but we need to be clear that these machines aren't solely enough to take on viruses such as COVID-19. That being said, if you're after an air purifier that can take on rooms as big as 600 square-feet, the Molekule Air is currently available at the lowest price we've seen it and this air purifier will look great wherever you choose to store it.
The Molekule Air isn't the only great air purifier deal either. Right now, you can also save a huge $200 on the Dyson Pure Hot + Cold Smart Tower Air Purifier at Best Buy.
We've picked out the best Black Friday air purifier deals below.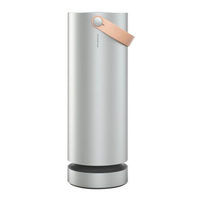 Molekule Air 600 sq. ft. Air Purifier: $799.99 now $649.99 at Best Buy
There is $150 to save on this Molekule Air model now at Best Buy. The Molekule Air not only aims to collect allergens, dust, and virus particles, but also destroys them too. This fantastic deal price includes six months of filters. Get it while you can.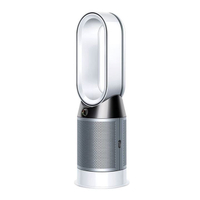 Dyson HP04 Pure Hot + Cold Smart Tower Air Purifier: $649.99 now $449.99 at Best Buy
This Dyson Air Purifier has a whopping $200 off the price right now. Scoring highly in our round up of leading air purifiers, and gathering excellent customer reviews, this Dyson model also acts as a fan, and a space heater too. Its powerful HEPA filter traps 99.97% of allergens, and with this price, it's a great deal!
If you're after Black Friday air purifier deals but don't want to end up with something that will be an eyesore in your home, we'd definitely recommend the Dyson Pure Hot + Cold, or the Molekule Air.
The Molekule Air air purifier has a stylish cylindrical design and it's also fitted with a leather handle, that not only looks great but is practical too as it allows you to easily move the air purifier from room to room. It is corded, so you'll need to place this air purifier near an electric socket.
If you're on the lookout for something smaller, the Molekule Air Mini + is now $100 off at Best Buy too.
The Dyson HP04 Pure Hot + Cold Air Purifier uses a HEPA filter to capture, pet dander, dust, and allergens in your home. Its night-time mode is quieter and the lights are dimmed, so this unit won't keep you awake at night. The Dyson Hot + Cold works fast to push 77 gallons per second of purified air into your home. Pretty impressive!
Whichever Black Friday air purifier deal you go for, you'll have to be fast if you want to save big on these fantastic savings.
More great Black Friday air purifier deals
Save on the best Black Friday USA deals for 2020 with our round up, or alternatively, find more home appliances in our guide to Black Friday Refrigerator Deals.