Could bidet toilets be the strangest thing to be booming as a result of the coronavirus? It's quite possible. Since many people have been panic buying toilet paper, others are looking for alternative ways to keep things clean down there - with Americans panic buying bidets in case stores run out of toilet paper.
With so many people self-isolating or in lockdown, more and more people have been looking for ways to convert a toilet into a bidet. And it's not as tricky as you think!
We've found a selection of bidet toilet seats and bidet attachments that can be simply connected to your toilet or sink, which also means that there's no need for anyone to come out to your home for installations.
Even better, using a bidet attachment means there's no need to stockpile any toilet paper and some say it's quite the treat for your tushy. Take your pick from options that attach to your toilet seat, or opt for one of the shower-like attachments for a cleaner that has multiple functions.
We're no stranger to finding other bathroom essentials you're in need of like the best handheld showerheads but, if it's the best for your bottom, then we've got you covered in our round up of where to buy a bidet attachment.
Since the start of the coronavirus pandemic, bidet manufacturers have reported a surge in orders, reporting record sales in the last few weeks and we've scouted all around to find out where you can buy a bidet attachment today.
What types of bidet attachments are there?
The good news is that most bidet attachments are made to fit all standard toilet sizes. This selection is designed for people to be able to easily install at home, without any specialist skills or plumbing required.
For many, which bidet attachment you go for may come down to price, but other things to consider are if there's a warranty and how long it's valid for. Whether the bidet attachment comes with adjustable nozzles and what temperature controls are available.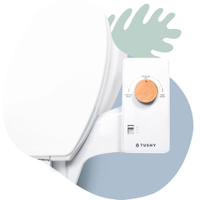 Tushy Classic bidet attachment: was $109 | $89 (save $20 at hellotushy.com)
Easy to install without needing electric or professional plumbing, Hello Tushy's classic model claims to help you use 80% less toilet paper. That's savings all round and one, hopefully, clean butt.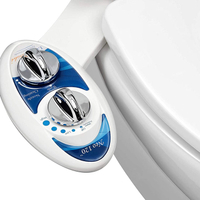 Luxe Bidet Neo 120: was $109.98 | $41.99 (save 67.99 at amazon.com)
This bestseller is currently available for less than half price. Complete with a nozzle guard gate, 18-month warranty, and adjustment switches, it easily attaches to your toilet without any specialist support.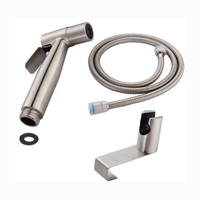 Hand Held Bidet Sprayer For Toilet Shower: $31.99 at wallmart.com
A versatile option that can double up as a bidet and a useful hose for things like cleaning your pets, this handheld bidet sprayer also comes with a holder so that it can be attached to the wall.