The Sears fridge deals are offering up some unmissable savings right now, including a whopping $1260 off the Kenmore French Door Refrigerator - yes, you read that right.
Rivaling some of the best French door refrigerators on the market, the Kenmore 70355 refrigerator has a generous 22.1 cubic feet capacity and it's finished in fingerprint-resistant stainless steel so it'll stay looking as good as new.
Now over $1,000 cheaper, this refrigerator is also counter-depth so it'll sit neatly in your kitchen without sticking out and taking up valuable space. Counter-depth refrigerators are typically more expensive than standard sized models, so this is already a great saving.
Complete with a pantry drawer, spacious freezer compartment, and well designed fridge storage, the Kenmore 70355 is a great option for those that need plenty of room to store their groceries - and keep them well organized. Making life easier, this refrigerator is also smart-enabled which means you'll be able to monitor and control it via your phone. It's even compatible with smart speakers so you can literally tell your fridge what to do.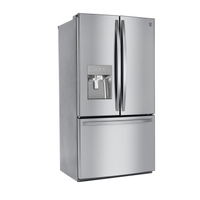 Kenmore 70355 22.1 cu. ft French Door Refrigerator: $3259.99 now $1999.88 at Sears
Save over $1000 on this family sized refrigerator. There's an in-built ice dispenser for refreshing drinks, and you can even control this fridge using voice activation. Cash in on this fantastic saving while it lasts.
As well as saving on the initial price of this fridge, you can also look forward to lower energy costs as this model is Energy Star certified. And it's not a case of style over substance either, as the Kenmore 70355 has a clever cooling system that ensures the temperature is even across all of your refrigerator shelves.
Spacious door bins will be ideal for storing juice cartons or milk, and the freezer drawers are positioned in two tiers to make finding what you need much easier. This Kenmore refrigerator also has an ice maker and water dispenser, which typically tend to eat into the interior space of the fridge. However, the ice maker has been designed to minimize the amount of space it uses so you don't have to compromise on internal storage. Plus, when it comes to hosting, the ice maker has a feature that speeds up the process so you can get your guests a drink in no time at all.
The linear compressor, combined with air flow technology, in this Kenmore fridge will help keep your fruit and veggies fresh and crisp for as long as possible. There's also bright LED lighting to illuminate your food without the heat that older, traditional bulbs give off.
On sale for such a low price, and packed full of features, the Kenmore 70355 is a fantastic saving, but you'll have to be quick if you don't want to miss out.
More great family fridge deals
Still haven't found what you're looking for? Check out these cheap refrigerator deals.