In the middle of a reno project? Need to replace a broken one? You've chosen a great time to shop for the best dishwasher at Best Buy, although it may not feel like it with all the jobs to do.
The Best Buy Black Friday deals launched November 1 and have since been spoiling us with a bunch of early holiday sales to shop. The Samsung 24" Top Control Smart Built-In Stainless Steel Tub Dishwasher with Storm Wash is an awesome example of this. Best Buy has just 11 dishwashers on site, and I've honed in on this one because not only is it discounted by $235 with delivery available in three days, but you also can't find it anywhere else, thus making it a deal not to be missed.
Keep scrolling to find out what you will be getting for your money. Plus, check out the other sales to shop.
This is the best dishwasher on Best Buy
The Samsung 24" Top Control Smart Built-In Stainless Steel Tub Dishwasher with Storm Wash is one of the best dishwashers on Best Buy, with a customer rating of 4.7 out of 5 stars. It is also a Black Friday dishwasher deal not to be missed, in my opinion, although it is not the cheapest nor a dishwasher with the deepest discount. During the holiday sales, this Samsung dishwasher has dropped to its lowest price and can now be yours for $529.99, from $764.99 - that's a saving of $265.
Why buy it? There are a lot of features packed into the 33 7/8 x 23 7/8 x 25in (h x w x d) unit. The powerful StormWash system has rotating jets that let you skip the pre-rinse and deliver heavy-duty cleaning from every angle, even tough-to-reach spots. The Auto Release Door automatically opens at the end of a program to circulate air and improve the drying performance of all 15 place settings washed clean inside.
It also has a height-adjustable top rack to accommodate the larger dishes or the often awkwardly shaped kid's plates beneath. The lower rack is a fixed height and arrives with a cutlery basket.
What really stands out for me on the Samsung 24" Top Control Smart Built-In Stainless Steel Tub Dishwasher is the ability to monitor and control it via the SmartThings app on your phone. This means that you can remotely start, stop, or delay dishwashing cycles regardless of whether you're at home or not. You can also monitor and manage your dishwasher's power usage and receive alerts to help lower the electricity bill. If you'd prefer not to use the Wi-Fi connectivity for whatever reason, then the digital touch controls are on hand to make toggling between settings easy.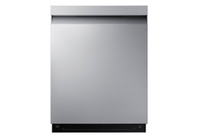 More Best Buy sales to shop...
If you're kitting out the rest of your crib, then these other Best Buy sales would be worth a browse whilst you're on site.