If you're after extra space to store frozen food, a chest freezer will be exactly what you need. And luckily the Sears chest freezer sale has plenty of offers to rival even the juiciest of Amazon Prime Day 2020 home deals, with big savings from the likes of Hotpoint, Frigidaire and GE Appliances. In fact, you can make great savings today in the Sears chest freezer sale, all while stocks last of course.
When it comes to storing frozen food, chest freezers are the ideal way to make sure you have all the space you need. They're great for bigger households or for anyone who likes to make and freeze meals in advance. They are also useful if you simply need additional frozen storage to that found in the best freezers.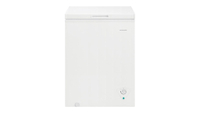 Frigidaire FFCS0522AW Chest Freezer With Basket | Was $531.93 | Now $379.95 at Sears
Save more than $150 on this compact freestanding freezer with 5 cu. ft. of storage space. The counter-height of this appliance also makes it a seamless fit for any kitchen large or small. It also comes with a removable basket for efficient organization.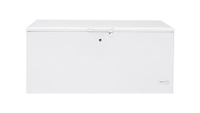 GE Appliances FCM22DLWW Chest Freezer With Baskets | Was $1199.99 | Now $1,099.99 at Sears
Go big on storage and big on savings with the GE Appliances large 21.7 cu. ft. chest freezer, guaranteed to keep you in a good supply of frozen food for months ahead. Extra details include a lock and key, as well as two baskets and temperature alarm to ensure your food stays perfectly frozen.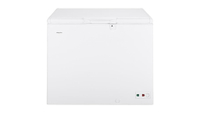 Hotpoint HCM9DMWW Chest Freezer | Was $499.99 | Now $449.99 at Sears
Save $50 with this reliable option from big-name brand Hotpoint. Coming in at 9.4 cu. ft. it's the ideal size if you require extra frozen storage and it also comes with two removable sliding baskets for convenience, as well as adjustable temperature control.
Chest freezers open with a secure hinged lid at the top and offer maximum storage for bigger and bulkier frozen items, such as joints of meat, big bags of vegetables or bumper tubs of ice cream. Look out for appliances that come with handy removable baskets too, so that you can access your frozen food easily and keep it organized as well.
A good-quality chest freezer, such as those from Hotpoint or Frigidaire will come with features such as internal light and temperature control to help you use and get the most out of your appliance.
If you want storage and style, there's plenty to pick from in our guide to the most beautiful and best French door refrigerators. You may also be interested in learning how to clean a refrigerator using only natural cleaning products.