Samsung refrigerators are some of the best around and today you can save a huge $700 at Lowe's. From one of the leading brands, these Samsung refrigerator savings are some of the best Cyber Monday refrigerator deals we've seen so far but they're bound to sell out fast.
Samsung is often behind some of the best side-by-side refrigerators as well as the best French door refrigerators so whichever type you're after, save yourself some money with these top deals from Lowe's.
One of the best savings we've seen is on the Samsung 28.2 cubic-feet French Door Refrigerator, which is reduced from $1899 down to $1199. This is up there with the biggest capacity refrigerators on the market and this Samsung fridge is coated in timeless stainless steel, which not only looks great but is also fingerprint-resistant.
You'll be able to buy this refrigerator for less today, however, stock is running low so you need to be fast. There are other great deals on Samsung refrigerators too, and we've included our best picks below.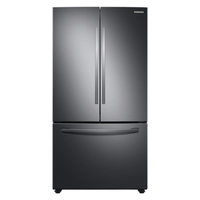 Samsung RF28T5001SR 28.2 cu. ft French Door Refrigerator: $1899 now $1199 at Lowe's
This Samsung refrigerator deal is too good to miss! Enjoy a full-width freezer drawer and forget about being restricted with narrow shelves. Even cooling will keep your food fresher for longer, and the fingerprint-resistant coating will keep this fridge looking as good as new. Save a staggering $700 today!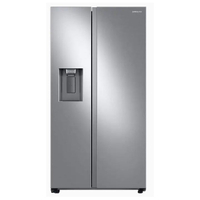 Samsung RS27T5200SR 27.4 cu. ft Side-by-Side Refrigerator: $1399 now $1259 at Lowe's
This Samsung refrigerator not only looks the part, it's very practical too and today it's $140 cheaper than normal. Benefit from a large capacity, fingerprint-resistant coating, and an in-door ice maker. Gallon door bins add even more storage space.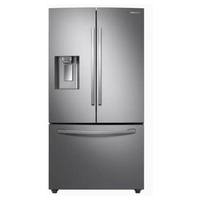 Samsung RF28R6241SR 28 cu. ft French Door Refrigerator: $2749 now $1799 at Lowe's
There's a massive 28 cubic feet of storage with this Samsung refrigerator and an equally massive discount of $950 right now at Lowe's. Fitted with a dual ice maker, this refrigerator is also smart-enabled, and it won't cost you loads to run as it's Energy Star certified as well.
The Samsung RF28T5001SR French Door Refrigerator, the first deal we mentioned, is $700 cheaper, but what you're getting is a high-end refrigerator with more than enough room to store food for the whole family. While the refrigerator compartment is an organizer's dream, the easily-gliding freezer drawer is great for storing more bulky items, large pizzas, and having a fresh supply of ice too! Even handier, this refrigerator is Energy Star certified so it won't cost you the earth to run.
The saving of $140 might not be as huge as the other two Samsung deals we've included, but the Samsung RS27T5200SR makes up for it with its spacious 27.4 cubic feet capacity and a host of impressive features. Multiple air vents in this refrigerator keep your food at optimum temperature, and the gallon door bins will help you store larger cartons or drinks. There are two clear drawers too so that you can easily see what you have in the fridge.
Our third and final Samsung refrigerator deal we've included above is on the Samsung 28 cubic feet French Door Refrigerator, and it's one enormous saving of $950. This still might be the most expensive refrigerator in our round up but for under $1800, this is a brilliant price for a French door refrigerator, let alone a smart-enabled model. That means, you can control your fridge wherever you are. As if all that wasn't enough, this Samsung refrigerator is also Energy Star certified, and quite frankly, we can't believe it's this cheap. Grab it now before it goes back to full price.
More great Samsung deals
Looking to save on other items? Then don't miss this guide to the best Cyber Monday deals from major retailers and brands. We're also rounding up the very best deals across home, hobbies, and tech. Here are some of our favorites...