If you've been looking at this 8-inch Milwaukee M18 Fuel Chainsaw then this is a fantastic pruning chainsaw to consider, but it retails regularly for $279.00 through all the major retailers.
What makes this such a good find is that this chainsaw deal includes a high-output ion-lithium battery compatible with Milwaukee's M18 system. This battery, which retails typically for $199.99, can be used with any Milwaukee M18 or M18 Fuel power tool. That way, you only need to buy one battery instead of one per tool or appliance.
After all, plenty of the best chainsaws can be found for the same price or less. But, the cost of gas will rack up quickly for the gas-powered variety, while the electric ones will still require their own battery.
That means if you've been interested in Milwaukee's M18 line and a bundle that will save you some money, you're essentially paying slightly below the regular price for the chainsaw while getting a free battery that typically costs almost as much as the chainsaw itself.
Specifically, instead of paying $518.00 for the chainsaw and battery, you're paying $279.00 which is a whopping $239/46% off.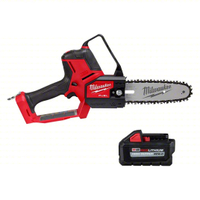 Milwaukee M18 Fuel Chainsaw Hatchet was $518.00, now $279.00 at Home Depot (save $239)
The 8-inch version of the Milwaukee M18 Fuel Chainsaw line is a powerhouse. While it's not for massive tree trunks and can handle any smaller job without much effort thanks to its brushless motor and variable speed. And, now it's on sale, bundled with the M18 ion-lithium high output battery for a severe discount, dropping from $518.00 to $279.00 at Home Depot. That's a savings of $239 or 46%.
Price Check: Ace Hardware $279.99 without battery, Lowe's $204.00 without battery
Alternative Pick / Cheaper Option: Milwaukee M18 Fuel 8-inch Chainsaw without battery
Key Features of the Milwaukee M18 Fuel Chainsaw Hatchet
The Milwaukee 8-inch M18 Fuel Chainsaw Hatchet is a well thought out pruning chainsaw. To start, it's part of the M18 system so you can use the same battery from tool to tool without having to charge a bunch of different batteries or even pay for multiple batteries. After all, the typical high-output battery for this system goes for $199.99.
The chainsaw itself uses a brushless motor to handle demanding tasks without hassle, only limited by the 8-inch chainsaw. The full house chain also results in clean cuts while metal bucking spikes help with control.
Beyond just performance, there's plenty of highlights in the design. From a variable speed trigger to a compact, lightweight design, there's a lot to like. That includes easy access to tighten the chain, a translucent oil reservoir for a quick check on oil levels (plus its automatic oiler keeps lubrication consistent). There's also a tie-off for aerial applications as well as a scabbard that will lock onto the saw so you know you're safe if you have to get up high to take care of a job.
Chainsaw Deals
If you already have a M18 Fuel Ion-Lithium battery, then this deal through Home Depot is not going to be as exciting. There's still a deal on this Milwaukee M18 Fuel 8-inch Chainsaw on Amazon as it's going for $204 instead of its usual MSRP of $299.00 (some retailers have it typically at $279.00). That's a good 32% off, which is $98, making it an ideal alternate deal for anyone looking for a new pruning chainsaw.
With Amazon Prime Day deals and, dare we say it, the best Black Friday deals, not too far away, it would be worth bookmarking these two main hubs so you'll be amongst the first to know of more deals worth having.