It's getting to that time of year: the weather's colder, and we're looking for the best way to get a hot cup of coffee without leaving the house. And now that the holiday sales are here, our coffee machines can be upgraded for a lot less than usual.
Among the best Keurig Black Friday deals, we're seeing the K-Elite, one of the best models available, reduced by over $80. That brings the price down to $108.40 from $189.99, so there's no doubt that we're excited to see it at this price.
Read on for an overview of the K-Elite's key features, and head to our main Black Friday appliance deals hub for more.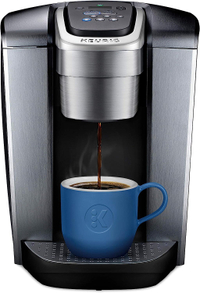 Keurig K-Elite Coffee Maker: Key features
The K-Elite is one of Keurig's top models, with the coffee maker offering almost all the features found across Keurig's range.
You can brew coffee, tea, and hot cocoa in five cup sizes: 4, 6, 8, 10, and 12 oz. This is great for households with varied coffee preferences, especially as there's an option to increase the strength of your coffee. You can also use it for hot water, making it a handy appliance for things like tea and oatmeal.
The coffee maker has a 75 oz water reservoir, so you can brew around 8 cups before having to refill it. Keurigs are known for their ease of use, and the K-Elite is no different: all you have to do is insert your coffee pod and press the cup size, then the machine will brew your coffee in under a minute.
The drip tray can hold a full cup for any accidental brews and spillages, and it's removable for the use of travel mugs up to 7.2'' tall. To make things easier, you can set a time in the morning for the machine to turn on and set the time that it shuts off to save energy.
To get the Keurig K-Elite for under $110 is a sweet deal, especially as that's around the same price as many of Keurig's more basic models. Grab it while you can and beat the Black Friday rush.
Coffee maker deals
It's an exciting feeling seeing some of the best coffee makers on offer, especially with how much the most premium machines can set you back.
For cheaper alternatives, feel free to check out our roundup of the best Black Friday coffee maker deals. We're already seeing a lot of choices on offer.