LG is one of the biggest brands when it comes to appliances. So, it's always worth paying attention when one of their dishwashers go on sale. Even with Labor Day sales having passed, there are still some significant savings to be had. So, if you missed the Best Buy Appliances Labor Day sale, don't worry.
The LG 24-inch Stainless Steel Tub Dishwasher with QuadWash might not typically come cheap. But it's still seeing a very impressive discount, dropping from $799 to $499. And, while we're featuring Best Buy's discount, it seems that this model, specifically the LDFN3432t model, is receiving a similar price drop through LG and a few other retailers.
Of course, you should first decide if an LG model is for you. If you're unsure, I highly suggest taking a look at our LG vs Bosch dishwashers article for some insight. However, LG has plenty of dishwashers among the best dishwashers, so don't wait too long to jump on this deal. That is unless you're willing to wait until the Winter holidays for a potentially better doorbuster deal. And you might not find a bigger discount (at least that's in stock).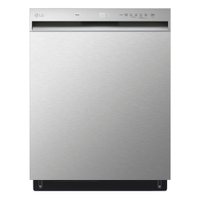 LG 24-inch Stainless Steel Tub Dishwasher with QuadWash was $799, now $499 at Best Buy (save $300)
Though this is a standard-sized dishwasher, it has quite the capacity inside – for 15 place setting's worth of dishes. It also runs efficiently and quietly. It uses LG's proprietary QuadWash system with four spray arms instead of two to clean your dishes from every angle possible. While this dishwasher, which comes in an elegant stainless steel design, is typically $799.99, it's currently seeing a massive $300 discount for a sales price of $499.99.
Price Check: LG $499.99 Lowe's $499.99
Alternative Pick / Cheaper Option: LG Stainless Steel Tub Dishwasher with SenseClean
LG 24-inch Stainless Steel Tub Dishwasher with QuadWash: Key features
The LG 24-inch Stainless Steel Tub Dishwasher with QuadWash may attract attention for its stainless steel exterior, but there's a lot going on. For starters, the "stainless steel" part of its name actually refers to the stainless steel interior tub, which not only helps with drying but is rust-resistant, giving you a bit more longevity.
The way this dishwasher is designed is also impressive because, even though it's a standard size, it can fit a lot of plates, specifically 15 place setting's worth, thanks to the fact that there's also a pull-out cutlery basket as well as the typical two racks.
It also can operate quietly so that its 50dB of noise doesn't distract during use. It uses steam to help with food residue, and reduce spots, and a three-stage filtration system for more efficient cleaning. Of course, one of its biggest features is QuadWash, a system that uses four multi-motion spray arms instead of two to get your dishes spotless.
Dishwasher Deals
If you find this dishwasher a bit pricey, a slightly cheaper model from LG is also seeing a sale at Best Buy. It also offers a stainless steel tub, quiet operation, and dynamic dry, but skips the QuadWash feature to keep the price down as it retails for $100 less. Of course, cheaper models get smaller discounts, so while its discounted price is less than the LG model mentioned here, it's only $50 less.