Home & Landscape Design Essentials from Punch Software offers NexGen Technology, which helps you build a greener home or remodel your current home for maximum energy efficiency. With capabilities to design both a custom landscape and the home itself, Punch Home & Landscape Design fits well in our lineup of top-rated home landscaping design software.
If you're just starting out with landscaping design, you can pick from more than 20 fully editable professional plans that are included with the software. You can also use the PhotoView Power Tool to put a picture of your house in Home & Landscape Design, then add plants, trees, shrubs, water features and more to the design. However, keep in mind that while you can add and size plants, there are no garden templates, so you will have to form a definite idea of what kind of garden landscape design you want to implement before you design it yourself.
Once you have the basic home design, you can add pits, earthen berms and fencing, then put gazebos, trellises and just about anything you can think of in your yard. Home & Landscape Design allows 2D editing and limited 3D editing.
The program has a fairly simple interface, but it's not very intuitive. For instance, the icons aren't self-explanatory, so you need to read each one to know what they do. Also, the graphics are also more rudimentary than those if many of the other programs we looked at. The tools that allow you to perform functions like switching from 2D to 3D are in an obscure spot, and we had to spend extra time searching to find them. If you need a more intuitive program, consider our top pick, Realtime Landscaping Plus.
This program has an extensive object library, but it emphasizes home design over landscaping. With the extensive home design database, you can create custom versions of objects like doors and windows, but there aren't a lot of plants and outdoor features when compared with landscaping-only software.
Designing homes and landscapes on a computer requires effort, as there are terms, tools and concepts that might be foreign to some users. Fortunately, Home & Landscape Design includes many helpful video tutorials that will both help you get started and improve your skills as you become more familiar with the software.
The video tutorials guide you through the interface steadily and at the proper pace. While the icons aren't immediately intuitive, we did like how each interface element was defined and its function demonstrated. It clarifies a lot of questions for the beginning landscape and home designer. This program also includes a thick instruction manual with detailed application help. If you still have questions, Punch has online forums where you can interact with other Punch Software users and employees alike.
Summary
While Home & Landscape Design emphasizes home design, it is still a quality landscape costs a fraction of the price of much landscaping software. This landscaping designer helps you design a more energy efficient home. You can choose from a number of templates to create designs or import pictures, and you can edit them within the software. If you are looking to update your home or build a new one and want to think about landscaping as you do it, this software can help each step of the way.
Need a better alternative?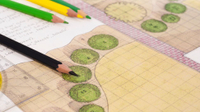 (opens in new tab)