With Black Friday around the corner, we're about to see massive savings on a whole load of products from our favorite brands. Some retailers like Home Depot have already launched some impressive Black Friday appliance deals.
But ahead of the big event, one of Nespresso's best coffee makers has been reduced by over $75. It's the Nespresso Vertuo Plus Deluxe, and it comes with the Aeroccino 3 milk device that usually costs around $99 by itself.
We're likely to see some amazing offers among the Black Friday coffee maker deals, but with a package this good, you can get ahead of the busy rush and grab yourself an impressive coffee machine at an impressive price. Read on for the Nespresso Vertuo Plus Next's key features.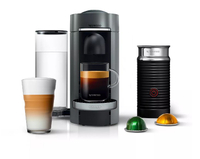 Nespresso Vertuo Plus Deluxe & Aeroccino 3 Milk Frother | was $249.95, now $174.28 at Amazon (save $75.67)
Brew all your favorite coffees with the Nespresso Vertuo Plus Deluxe coffee machine. It can pour five-cup sizes, using pod technology that maximizes the flavor and body extracted from the pods' coffee grounds. And with the Aeroccino 3 milk device included, this is a bargain at under $175.
Price Check: Also on offer at Macy's ($174.30)
Cheaper Option: Nespresso Vertuo Pop
Nespresso Vertuo Plus Deluxe: Key features
Nespresso's Vertuo range is an upgrade from their Original line of coffee machines, offering more choice in terms of cup size and brew type. The Vertuo Plus Deluxe is a capable mid-range model, offering plenty of the best Vertuo features without being too large or pricey.
Vertuo coffee makers brew differently from Nespresso's previous models. Unlike many pod brewers that simply push water through the pod and then through the metal film, Vertuo machines push water into the center while the pod spins at around 700 RPM. The coffee is pressed out from 20 openings around the edges, producing a thicker crema and body. You can really tell the difference compared to more basic pod brewers.
With the Vertuo Plus Deluxe, you can brew five cup sizes all the way up to a 14 oz full brew alto coffee. You can also brew 8 oz coffees, 5 oz lungos, 1.35 oz espressos, and double espressos. All Vertuo pods are designed to be brewed at any of these sizes, with bar codes for the machine to read, so you don't have to worry about weaker flavors as you get to the larger cups.
But the big selling point for this coffee maker is the Aeroccino 3 frother that's included. This is a great device for heating and frothing your milk in a number of ways, allowing you to brew milky coffees like lattes and flat whites. The Aeroccino 3 currently has an RRP of $99.99, so getting one included in a package below $200 is an impressive deal. And with 14 capsules, too, this is an amazing package at this price.
Coffee maker deals
Nespresso makes some of the best coffee makers, so it's always exciting when we see them on offer.
For cheaper alternatives, feel free to check out our roundup of the best Keurig Black Friday deals. We're already seeing a lot of choices on offer.