If you love a bargain and you're in the market for a new addition to your kitchen, these incredible Best Buy dishwasher deals are going to have you jumping for joy. As we know from experience, the best dishwashers are quiet, energy-efficient, and designed to take the hassle out of cleaning up. Dishwashers aren't known for coming cheap, but thanks to Amazon Prime Day 2020, you can now save over $400 on a dishwasher at Best Buy depending on the model you buy.
With top-of-the-line offerings from LG, KitchenAid, and GE, and two great deals under $1,000 and our best economy-buy under $500, there's a Best Buy dishwasher deal to suit pretty much every budget. And if you're really looking to kit out your kitchen while the going's good, take a look at our guide to the best French door refrigerators to take pride of place next to your new dishwasher.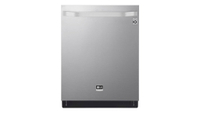 LG Studio 24" Top Control Built-In Dishwasher | Was $1,299.99 | Now $999.99 at Best Buy
If you loathe pre-washing your dishes before loading them in, you're going to love this LG dishwasher that does all the heavy lifting for you. The superior QuadWash and TrueSteam tech provide maximum cleaning coverage and 60% fewer water spots than other dishwashers. The glide rail and ball-bearing wheel design makes loading and unloading a breeze. There's even a height-adjustable third rack to give you the flexibility to squeeze in more dishes.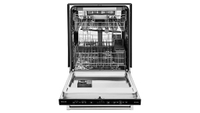 KitchenAid 24" Built-In Dishwasher | Was $1,169.99 | Now $760.99 at Best Buy
If you have a kitchen kitted out with black appliances and you're looking for the perfect dishwasher to finish off the look, this stunning dishwasher from KitchenAid has your name written all over it. With its superior ProWash system that intuitively selects the correct cycle to run for maximum energy efficiency, and a fan-enabled ProDry system that dries dishes fast, this easy to use dishwasher is a must.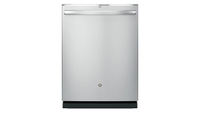 GE 24" Tall Tub Built-In Dishwasher | Was $824.99 | Now $412.49 at Best Buy
If the thought of shelling out over $500 on a dishwasher elevates your blood pressure, this dishwasher from GE is a tonic. With a spacious design that accommodates up to 16 place settings per load, plus adjustable racks for oversized plates and glasses, this dishwasher is great if you have a large family or like to entertain. Bottle jets push water into hard to reach places, and a hard food disposer pulverizes food particles to prevent drain blockages.
These impressive Best Buy dishwasher deals are proof that you can have all the bells and whistles of a high-quality dishwasher without the hefty price tag. With savings to be made between $300 and $400, why not bag a bargain this Prime Day and say goodbye to hand-washing dishes once and for all?
To add further finishing touches to your kitchen, take a look at our guide to the best compact microwaves, or pick up a bargain with the best KitchenAid deals.
Save on Amazon devices this Prime Day
Because it's Prime Day, Amazon is dishing out big savings on many of its own devices, including the Amazon Echo, Amazon smart plugs and more. So if you've been waiting to pick up an Amazon device for less, these are the offers to shop...