The Haier HWF05XCR-L is an affordable window air conditioner with enough power to cool a small room of about 150 square feet. This unit is energy efficient enough to be Energy Star certified. However, while its 11.2 Energy Efficiency Ratio (EER) is good, it's on the low end of the spectrum compared to other window AC models we reviewed. In addition to being quite affordable, it has low estimated annual energy costs.
This Haier window unit removes about 1.6 pints of water from the air per hour, which puts it in the middle of the pack for dehumidifying abilities. It also has a dehumidify-only feature, which helps it remove more moisture from the air than it does when running in other modes. This could make it a good, economical choice if you live in a humid place.
Along with the dehumidify-only mode, this AC has sleep and energy-saver modes. However, it doesn't include an auto-restart feature, so if it loses power, it doesn't automatically restore your settings when it turns on again.
This Haier model is far from the most powerful window AC we looked at. Its maximum air flow rate is 135 cubic feet per minute, which is on the low end compared to other units we reviewed. In addition, it doesn't have four-way directional louvers, so you can't direct cool air to where you want it in the room. These factors, along with its 5,000 British thermal unit (Btu) cooling output, are why it is best suited to small rooms.
On the plus side, the Haier HWF05XCR-L is the quietest air conditioner we evaluated – it makes only 49 decibels of sound on its highest setting. This is quiet enough to talk over, even when you stand close.
This Haier AC has a standard one-year warranty on the appliance and the compressor. If you have questions or concerns, you can contact Haier via a toll-free number or an online contact form.
The Haier HWF05XCR-L is a window air conditioner that can cool a small room of up to 150 square feet. It's missing convenience features like an auto-restart function, but it has a dehumidify-only mode that can extract a decent amount of moisture from the air. It is an affordable AC and the quietest window unit we evaluated.
Need a better alternative?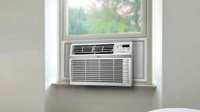 Best Window Air Conditioners 2019
Top Ten Reviews has reviewed the Best Window Air Conditioners 2019 so that we're able to offer you the authoritative buying advice you expect.