The new Apple Watch Series 6 is on sale right now at Amazon. This is an Apple Watch deal that makes this usually expensive wearable tech seem cheap... well, relatively. Right now, as part of the Prime Day sales, you can get the Apple Watch Series 6 for $329.
As you probably already know, being here, this is one of the best smartwatches you can buy, bar none. Although if you're not an iPhone owner or are more into the health side of things specifically, you might want to look at the best fitness trackers as plenty of these are watch-level smart.
This deal isn't likely to stay running for long so that 18% saving might be something you want to move fast on before it's gone. Alternatively you could wait even longer until Apple launches the new Apple watch, around mid-September, when this model will likely drop in price a little. Or get that lower price and the latest model right now with this deal.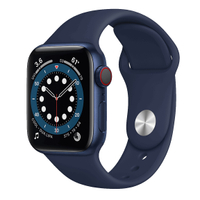 Apple Watch Series 6 | Was $399 Now $329 from Amazon
Save $70: Apple rarely sees its products in sales let alone its latest models which is why this is such a great snap deal. This is for the GPS model at 40mm in size and is available in a selection of colors, but this exact deal is for the blue aluminum case with deep navy sport band.
The Amazon Prime Day USA deals are plentiful, sure, but this is a special one. Yes, we keep saying that because, well, it's true and we might be a bit excited about that. So what does this watch offer?
As the latest model the Series 6 packs in the latest ECG tech to record your heart rate variability for super accuracy. You also get heart rate and blood oxygen levels, all adding up to some seriously in depth health data. Track your workouts, your sleep, your cycle, you steps and plenty more. Of course this also lets you take calls, read and reply to messages, control smart home devices, go out for a run with Bluetooth headphones playing your music minus the phone, and plenty more besides.
All that sound like overkill to you? Then perhaps the best Amazon Prime Day Fitbit deals would suit you better. If sleep tracking is why you're after the Apple Watch Series 6 then you may also want to look at the best Casper mattress deals which is another great way to help get that rest improved.
Don't have an Amazon Prime subscription? Get a free 30-day Prime trial now and take advantage of these brilliant deals before they end.