The Best Buy washer sale is packed full of impressive Black Friday washing machine deals and now is the time to save some serious cash on models from Samsung, GE, and other top brands.
Our top pick, the Samsung 4.5 Cubic Feet Front-Loading Washer is reduced by $330 in the Best Buy washer sale right now. Offering a spacious 4.5 cubic feet of washing space, this Samsung machine is among some of the best front-load washers around. Reduced to $749.99, this Best Buy washer bargain is finished in black stainless steel and has fast-wash settings - including one mode that can thoroughly clean your clothes in just 36 minutes.
In terms of wash cycles, there are 14 different ones to choose from with this Samsung Front-Loading Washer, five temperature choices, and five spin speeds. For tackling really tough stains, this washer has a steam wash setting that releases steam from the bottom of the drum so that all of the clothes are deep cleaned.
That's not the only fantastic pick from the Best Buy washer sale either! If it's one of the best top-load washers you need, the GE 4.6 Cubic Feet Top-Loading Washer has $255 off its original price at Best Buy.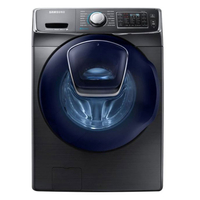 Samsung WF45K65OOAV Front-Loading Washer: $1079.99 now $749.99 at Best Buy
Get this sleek Samsung front-load washer with a saving of $330 in the Best Buy washer sale. With steam settings for a deeper clean, a spacious capacity, and smart controls via an app, this washing machine is a real bargain but won't be around for long as this low price.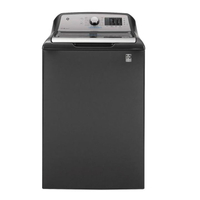 GE GTW725BPNDG Top-Loading Washer: $854.99 now $599.99 at Best Buy
This GE washer is smart-enabled and has an impressive 4.6 cubic feet capacity. Designed to work quietly, this washer has balancing technology to reduce vibration, and there are 12 wash cycles to choose from. Don't miss out on this saving.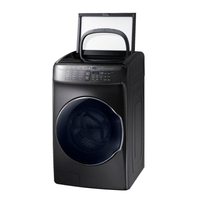 Samsung WV55M9600AV FlexWash Washer: $1529.99 now $1,099.99 at Best Buy
Get double the washing power with the innovative FlexWash Washer from Samsung. This clever machine has both a top-load and a front-load washer and it's smart-enabled too! A huge 5.5 cubic feet capacity means your laundry will be done in no time, and this washer is Energy Star certified as well.
It's rare to find smart-enabled washing machines at such impressive prices. Typically, models like the Samsung WF45K65OOAV Front-Loading Washer we've linked to above will cost you over $1000 if you pay full price so to see this model at under $750 is a real bargain.
The Samsung WF45K65OOAV Front-Loading Washer not only offers great cleaning power and a large capacity, making it ideal for family homes, but this washer is also self-cleaning. The self-clean feature uses heat and steam to rid your washer of germs and bacteria, and there's no need to use harsh chemicals to do so. Even better, this Samsung washer will remind you when it needs to be put on the self-clean setting.
As for the GE GTW725BPNDG Top-Loading Washer, not only does this machine have a handy Deep Fill setting where you can choose exactly how much water you'd like to wash with, but this washer also has a huge 10-year warranty which is very generous.
Whichever washer you're considering, you'll have to act fast if you don't want to miss out on these big savings.
More great Best Buy washer deals
Looking for other ways you can save money? Don't miss the best Black Friday USA deals for 2020. If you need more kitchen equipment, consider the top Black Friday refrigerator deals too.