Treadmills enable you to burn fat, boost your cardio levels and stay active by walking or running regularly, regardless of the weather or whatever's going on outside your front door. And now is a good time to buy one, thanks to the current Best Buy treadmill sale, which has cheap prices on some of the top treadmill models.
While scouring the deals we discovered price drops on machines by some of the biggest names in home fitness equipment. In fact, right now you can save $400 on the ProForm Performance 600i Treadmill at Best Buy, a feature-stacked treadmill with amply cushioning and support to help you walk, jog and run comfortably and confidently indoors.
You can also save $1,000 on the NordicTrack X32i Treadmill, a pro-level choice for those who are serious about home gym equipment, or who plan on sharing a treadmill with others in their home who also want to get fit by walking or running regularly. Both of these brands feature in our guide to the best treadmills.
Let's take a look at some of the more tantalizing offers in Best Buy's treadmill sale now…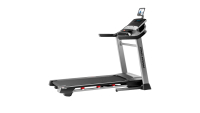 ProForm SMART Power 995i: was $2,000 | $1,299 (save $701 at Best Buy)
There are plenty of features here to boost your cardio health. There are 30 onboard workouts, viewable on a 6-inch display, while a QuickSpeed control is handy for interval training. Weight capacity: 325lbs. Tread belt size: 20x60-inches.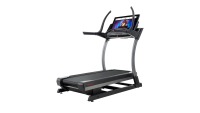 NordicTrack X32i: was $4,999 | $3,999 (save $1,000 at Best Buy)
Want to feel like you have a personal trainer on demand? Then this is the treadmill for you. The 50 onboard workouts are viewable via a 32-inch Smart HD touch screen, with reflex cushioning for softer landings. Weight capacity: 300lb. Tread belt size: 22x65-inches.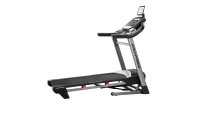 ProForm Performance 600i: was $1,499 | $1,099 (save $400 at Best Buy)
A space-saving treadmill for smaller homes. Walk or run along with 50 different classes, and dig into your fitness stats, including heart rate, via the integrated 10-inch Smart HD touchscreen. Weight capacity: 300lbs. Tread belt size: 18x55-inches.
The ProForm SMART Power 995i is designed for beginners upwards, and will help you expand your fitness levels at a pace that suits you. There are 30 onboard workouts, plus heart rate sensors in the handlebars to let you know when you're in a fat burning zone. Stats and workouts are viewable on the 6-inch display.
Of course, not all hand-grip heart rate sensors are super-accurate, so if accuracy is important to your training, check out the best fitness trackers. Or for a device that doubles as a timepiece, read our guide to the best smartwatch.
The ProForm Performance 600i also has 50 onboard workouts, displayed on a 10-inch Smart HD touch screen, and a QuickSpeed control. Best of all, there's a built-in CoolAire fan to keep you comfortable when exercising in warm weather.
Lastly, the pro-level NordicTrack Commercial X32i is a superb choice for a gym-level performance at home. We love that huge 32-inch HD touchscreen – simply swipe to start a workout – and 65-inch long tread belt for plenty of stride room. There are a series of quick controls for adjusting intensity (0-12mph) and incline/decline, for a more intense workout.
An iFit Bluetooth Smart chest strap is included for more accurate heart rate readings, and twin integrated Bluetooth speakers enable you to play your own fitness playlists aloud for greater motivation.
Looking for more health and fitness content? Check out our guides to the best elliptical machines and the best exercise bikes.