Labor Day sales are well underway, and stores are dropping deals and savings on a load of different products. One of the most exciting deals we've seen so far is the Dyson V15 Detect, an impressively powerful cordless vacuum, now with over $100 off.
There's no doubt that Dyson produces some of the best vacuums out there. As it's such an essential appliance to have in the home, it's probably a good idea to make sure it's a good one. And the V15 Detect is one of the best available in Dyson's range of cordless vacuums - you can find out more about its specs and power below and in our guide comparing the V15 Detect versus the Gen5Absolute Detect.
The cordless vacuum is on sale at a few stores, but we've found that Amazon has the cheapest offer going. Be sure to grab it while the sale's live for a sweet upgrade for the home!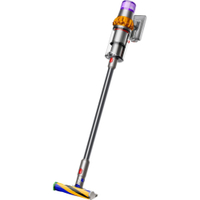 Dyson V15 Detect | was $749.99, now $615.50 at Amazon
If you're on the hunt for a powerful, cordless vacuum that can confidently tackle the whole house, the Dyson V15 Detect may just be the one for you. It has automatic power adjustment, laser illumination, and a handheld vacuum mode.
Key features
The V15 Detect is one of Dyson's most powerful cordless vacuums. We rated Dyson's more lightweight version, the V12 Detect Slim, the best vacuum cleaner available because of its balance of power, maneuverability, and price. The V15 Detect is more powerful (and therefore more expensive, of course) and designed to be a comprehensive floor cleaner for the whole house. For the extra cost, you get a more thorough cleaner for the home, but this discount sets the V15 cheaper than the V12's list price!
The V15 Detect has laser illumination to reveal dust and dirt you wouldn't normally see. It's an effective way of ensuring your floor is as clean as possible. It's also quick and easy to turn the V15 Detect into a handheld vacuum when tackling mattresses, shelves, or any hard-to-reach spaces.
Suction power and runtime are automatically adjusted thanks to a Piezo sensor that detects debris levels and counts dust particles. It also uses DLS technology to monitor the brush bar resistance so that it can automatically adapt the power across different floor types. This means your vacuum will always be cleaning at the optimal strength, saving battery life and cleaning efficiently.
While you clean, an LCD screen gives you a helpful indicator of how much has been picked up, what power mode you're on, and how much battery life is left. It can run for up to 60 minutes using a Dyson Hyperdymium motor that spins up to 125,000 rpm.
The filter and fluffy brush can be washed, and the vacuum even comes with a hair screw tool to pick up long hairs and pet hairs more effectively. The Dyson V15 Detect is a really impressive cleaner, and with over $100 off, it might be the best time to bring the cordless vacuum into your home.
Vacuum cleaner deals
Vacuum cleaners are such an important appliance, so we love when we see them on offer. If you're on the lookout for more vacuum deals, be sure to bookmark our Black Friday vacuum deals hub for all the biggest savings when they drop.
Labor Day sales are now live ahead of the September 1st to September 4th weekend. You can find all the best deals and discounts on our Labor Day deals page, with vacuums, washers, refrigerators, and loads more.
And don't forget that Amazon is hosting another Prime Day in October. You can follow all the updates at our Prime Day deals hub, and be sure to check out our guide on how to buy a vacuum cleaner during Prime Day.