At first glance, the GreenWorks Pro 80V, 21-inch cordless lawn mower looks like a racecar with its angled design and large wheels, and although it looks bulky, it is easy to maneuver. The mower is made from a tough polymer that can take a beating while producing zero emissions, and it does this without tying you down with an electrical cord.
The wide cutting deck allows you to mow your lawn efficiently by cutting down on the number of passes required to mow it. There is also a height-adjustment lever that lets you choose from seven cutting heights, allowing you to give your lawn a smooth, polished, even look.
One of the best features of this electric lawn mower is that it comes with two 80-volt rechargeable batteries instead of just one, however you have the option to purchase this lawn mower with only a single battery, or none. The two batteries, when they are fully charged, last up to 60 minutes each. The included charger only charges one battery at a time, but each battery only takes about 30 minutes to fully charge. With this mower's long run time – it'll run about an hour on a single charge – you can easily mow a yard up to a 1/3 acre or more before you run out of power.
In addition to its long battery life, the Pro 80V features GreenWorks' automatic power-adjusting system. This system monitors the power needed to cut your lawn and adjusts the battery accordingly to extend the mower's run time. The engine also directs extra power to the dual blades to make quick work of thick grass.
This electric lawn mower features two oversized 10-inch wheels that help make the Pro 80V easy to maneuver. This is helpful, especially since the mower does not have a self-propel feature and you will have to use your own strength to push it. If your yard consists of a steep grade or hills, you may want to consider an electric lawn mower with a self-propel feature. This cordless lawn mower weighs 62 pounds with an empty bag.
This mower is an excellent choice, but most, if not all of its features are surpassed by our top pick - EGO LM2102SP.
The Pro 80V cordless lawn mower can mulch your grass as you mow, which adds valuable nutrients back into your lawn, or you can opt to use the rear bag to collect the clippings. An airflow tab located on the bag tells you when the bag is full.
The GreenWorks Pro 80V electric lawn mower is an optimal mower for mid- to large- size flat lawns, thanks to its long battery life and maneuverability. If you don't need a self-propelled mower, then this is a good cordless lawn mower to consider.
Need a better alternative?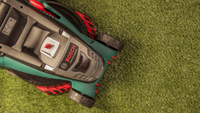 Top Ten Reviews has reviewed the Best Electric Lawnmowers 2019 so that we're able to offer you the authoritative buying advice you expect.