The Kobalt 80-Volt Cordless Mower is a powerful, efficient electric lawn mower that gives your lawn a clean trim and doesn't require as much effort to maneuver as a heavy gas-powered mower. Not only is it a clean-energy replacement for your gas lawn mower, it is backed by a generous five-year warranty. This is one of the best electric lawn mowers available.
The mower comes with two 2-amp batteries you can use simultaneously or separately. Each battery provides approximately 60 to 70 minutes of power.
Kobalt includes a battery charger for each battery, and they take around 30 minutes to charge. There is also an indicator on the top of each battery so you can see how much power is left as you mow.
Because of its lengthy battery life, the Kobalt cordless mower is an optimal choice for homes with large yards, up to 1/3 acre in size. You can raise or lower the cutting deck to one of seven heights, between 1.375 and 3.375 inches, with a single lever. In addition, the Kobalt has a wide 21-inch cutting path, which allows you to mow more of your lawn in fewer passes than with its narrower peers.
The Kobalt electric mower has a side discharge and an excellent mulching option. Mulching chops up the grass into fine pieces, which are then dispersed back into the grass to return valuable nutrients to your lawn. If you prefer to bag your clippings, it also comes with a large-capacity bag that attaches to the rear of the lawn mower. The bag has a large mouth, making it easy to empty.
While mowing your lawn, the Kobalt automatically senses when you are going up a steep hill or mowing long or wet grass. In these conditions, this mower automatically kicks it up a notch, delivering an extra boost of energy to power through without slowing down, and it still creates a clean, even cut.
This is a great lawn mower, but it didn't claim the "best overall" spot. That honor went to EGO LM2102SP.
You start this electric mower with the push of a button, which is a welcome relief from yanking on a starter cord. While pressing the button, you need to pull on a handle bar that looks much like the starter bars on gas mowers. This lever is a security measure that instantly stops the mower when released in case a child or debris gets in your way.
One of the mower's drawbacks is that it is not self-propelled, so you have to use your own strength to push it around. If you have a flat yard, the mower is very maneuverable and easy to push compared to heavier gas lawn mowers, which can weigh more than 80 pounds.
The cutting deck and body are made of steel, which makes the mower resistant to gouging and nicks. The Kobalt 80-Volt lawn mower weighs about 58 pounds – this is pretty standard for cordless lawn mowers and at least half of what gas mowers typically weigh.
The handle is encased with a comfortable padding that makes gripping it easy on your hands, and it can be adjusted to fit users of different heights. Though it's a little tricky to figure out because it requires a multistep process, the handle does fold down for easier storage.
Kobalt includes a five-year warranty on the lawn mower and parts and a three-year warranty on the battery packs. This is a generous warranty policy compared to those of other electric lawn mower manufacturers.
In the event you need the mower serviced, you can return to your local Lowe's hardware store for assistance. If it is within the warranty period, Lowe's will replace the mower or refund your money. You can also download the owner's manual and find customer service contact information on Kobalt's or Lowe's website.
The Kobalt 80-Volt Cordless Mower is an excellent electric mower for environmentally conscious homeowners who want to make a clean break from the hassle of gas-powered mowers. With its long-lasting battery, quality cutting and mulching power, and generous five-year warranty, this is one of the best electric lawn mowers to consider.
Need a better alternative?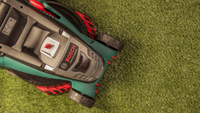 Top Ten Reviews has reviewed the Best Electric Lawnmowers 2019 so that we're able to offer you the authoritative buying advice you expect.