When you think of cleaning power, your mind may go to large canister vacuums or sleek and modern cordless models, but often, those small everyday messes can be tackled by something far less feature-rich and bulky - and far less expensive. Handheld vacuums are the perfect in-between, and the HomeVac H11 from eufy has been a life-saver in my home.
Like most people, my home isn't always as spotless as I'd like, and the most used rooms tend to build up dust at an alarming rate. I'm not always in a position to do a full vacuum, either, whether that be because of time or energy, so the HomeVac cordless has been an amazing solution. And - even better - you can pick up the model for 31% less at Walmart right now!
We spent Amazon's Big Deal Days searching high and low for the finest Amazon Prime Day vacuum deals, but this proves there are still mega savings to be had across the web.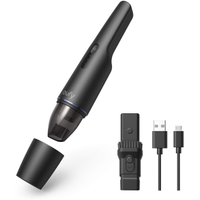 eufy HomeVac H11 Cordless Handheld Vacuum Cleaner | was $49.98, now $34 at Amazon (save 31%)
The eufy HomeVac H11 Cordless Handheld Vacuum Cleaner is now on Amazon for $34, a 31% discount from its original price of $49.98. The sleek device is lightweight and compact, with powerful suction and a 2-in-1 crevice tool that can reach every nook and cranny. When you need to charge, you can do so easily via the micro USB cable.
Alternative Pick: eufy HomeVac H30 Mate
eufy HomeVac H11: Features
The eufy HomeVac H11 has 5500Pa suction power and also comes complete with an extension nozzle and 2-in-1 crevice tool to help clean corners, baseboards, or between the couch cushions. The vacuum has a great filter that makes it easy to empty and clean and a lid for when you're not using it.
One of my favorite things about the vacuum is how lightweight it is. If you're doing more than a few minutes cleaning, its thin handle and 1.2lb design (apparently the weight of a wine bottle) means you won't get wrist fatigue. Using a handheld instead of a full-size vacuum is supposed to be easier, after all.
Vacuum cleaner deals
Amazon's Prime Day has now ended, but many retailers across the web are still offering significant savings on great products. Vacuum cleaners have always been a significant part of this bi-annual sales event, and we're glad to see they are a major focus again this fall.
We spend a significant portion of the year eagerly following the best vacuum cleaners in the market, and we get excited when they're about to go on sale. Therefore, we have meticulously scoured the best Amazon Prime Day deals before, during, and after the mega event to save you the trouble.
If you plan to buy a new vacuum cleaner - handheld or otherwise - before the year ends, this event will be a great opportunity to snag the best deal. There is always the risk that stock will start to run low, so if you see a vacuum cleaner deal that you like the look of, then the time to buy is now - or when we gear up for our installment of the best Black Friday deals within the next couple of months.