Link Interactive's economical monitoring and a large selection of easy-to-install equipment help make it the best value among the home security monitoring services we reviewed. We especially like that you can buy your devices in a practical, online store. Unfortunately, the company's contract terms aren't very competitive.
Link Interactive takes a non-traditional approach to home security monitoring. The company works mostly through an online model: You buy your equipment from a website and install it yourself. This business model cuts out professional installer costs, which allows Link Interactive to offer competitive monitoring fees.
Link's monthly fees are $35.99 for the Gold monitoring plan, better than the average of $40 among companies we reviewed. In fact, it's one of the most affordable ways to get home security monitoring. The company doesn't charge starting costs for its basic control panel, but you can upgrade to a touchscreen model for $200 and get three entry sensors and a motion detector as part of your purchase. Aside from this, you pay for any other devices you want in your home using the shop on Link Interactive's website.
This isn't the only company we reviewed with an online shop; Frontpoint has a similar option. However, its shop is superior in that the pricing is clear for every device and you can choose to pay for your contract monthly, annually or all up front. The contract lasts three years by default if you buy through the shop, but you can get a shorter term by calling the company's sales team.
The cancellation terms are relatively simple: You pay 75 percent of what you owe for monitoring services if you decide to cancel outside of the first 30 days you have the system. This is the lowest cancellation fee (without dropping all fees entirely) among the security companies we reviewed and is the same as required by ADT.
Link Interactive sells a broad range of equipment such as entry sensors, smoke detectors, security cameras, thermostats and smart locks. The company's website provides clear images, prices and descriptions of each piece of equipment so you can choose the right devices for your home. The fact that you can see the prices clearly is a step up from most home security companies, which don't provide as thorough a breakdown of what everything costs unless you call a salesperson.
When you purchase equipment with your monitoring plan, Link Interactive takes time to program the system before sending it to you for installation. The company's website has an extensive section devoted to installation manuals in case you choose to add equipment later. These step-by-step guides walk you through physical installation and programming for every device Link Interactive sells.
If you have problems with your system, you can contact Link Interactive via social media, email, phone or live chat on the company's website. Link Interactive's three-year warranty lasts as long as the basic contract and is similar to that of most home security companies. You can also sign up for an extended lifetime warranty for $5 a month.
Need a better alternative?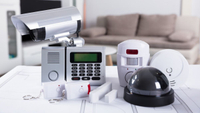 Best Home Security Systems of 2019
Top Ten Reviews has reviewed the Best Home Security Systems of 2019 so that we're able to offer you the authoritative buying advice you expect.