The Hydro-Force Havana Inflatable Hot Tub Spa is now $197 at Walmart thanks to a 50% Black Friday discount. That's one of the best Walmart Black Friday deals we've seen so far, and we don't expect this deal to be around for long. If you're tempted by the best hot tubs you can buy, but the price of a tub makes you sweat, inflatable hot tubs can create a sense of luxury and relaxation without the stress-inducing price tag. That goes for the Hydro-Force Havana Inflatable Hot Tub more than most, because it's incredibly rare to find an inflatable hot tub for under $200 - let alone one that can fit four people.
So, what do you get for your money with this inflatable hot tub deal? For a start, there are 120 built-in jets designed to offer hydrotherapy and high-power massages at home. This tub also includes a Freeze Shield automatic heating function, designed to stop the inner pipes from working when the weather turns frosty.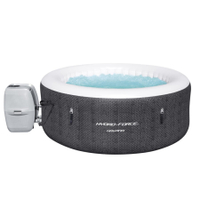 Hydro-Force Havana Inflatable Hot Tub Spa: $399.99 now $197 at Walmart
Seat up to four people in this incredible inflatable hot tub, now 50% off at Walmart. With heats of up to 104 degrees and a digital control panel to monitor all 120 jets, this is a fantastic saving you'll use year-round.
This inflatable hot tub can be used in temperatures above 14 degrees Fahrenheit, which is reassuring if you live in a colder climate and are worried about investing in an inflatable hot tub outside of the summer months. It heats to 104 degrees, and can be controlled by the easy-to-reach digital control panel at the side. The panel allows you to lock and unlock the temperature controls (ideal if you have kids who may fiddle with the settings) and allows you to switch the bubbles on and off, all without moving from your hot tub seat.
We are seriously stunned that this inflatable hot tub is under $200. It's got thoughtful touches to make you feel like you're at the spa, all without leaving the comfort of your home. The attached pump contains cup holders, meaning you won't need to move to be in reach of a refreshing drink. It also has a reinforced cover that locks in heat when you're not using the tub, so you don't have to wait as long before taking another dip once you're done relaxing for the day.
More great inflatable hot tub deals
Need more money-saving deals and discounts? We've rounded up the best Black Friday USA deals for 2020 - which includes early price-cuts from around the web. For more great options, check out our guide to the best Ninja Foodi Black Friday deals, Black Friday washer and dryer deals 2020, and Black Friday refrigerator deals.