We're expecting quite a few Instant Pot sales and discounts to appear over the next few weeks, as we approach Prime Day. However, Amazon isn't the only retailer that appears to be slashing prices, as Walmart is currently selling a 6 quart, 7-in-1 Instant Pot for the low price of just $59.99. It's too early to call whether or not this will be cheaper than other Amazon Prime Day USA deals, but it's certainly one of the lowest prices we've seen attached to this particular model.
Some of the best Instant Pots available can cost around $200, so this deal represents a real opportunity to bag yourself a high quality pressure cooker for a reasonable price. The 6 quart, 7-in-1 Duo multi-cooker gadget is one of the more affordable Instant Pots available on the market, usually priced at around $79.99. Because of this low price, it's often out of stock – so you may want to move fast if you fancy one of these for your kitchen.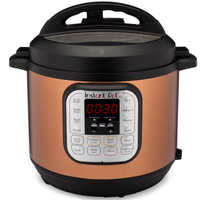 Instant Pot Duo 6 qt 7-in-1 pressure cooker | Was $79.99 | Now $59.99
This is a very low price for an exceedingly useful kitchen gadget, which is capable of acting as a pressure cooker, slow cooker, rice cooker and more.
Despite this being one of the most affordable Instant Pots, it still packs in quite a few functions. It can act as a pressure cooker or slow cooker, allowing you to cook food quickly or extract as much flavour as possible from your dishes. It can also warm food gently, if you're heating up a chilled dish, and steam food too.
There are sauté functions, yogurt making tools, and rice cooking functions all packed into this compact gadget. And if this list isn't already long enough for you, it also offers 14 smart programs, which allow you to make things like soups, stews and poultry dishes with a few button clicks. A 24-hour timer also allows for delayed cooking, and the automatic 'keep warm' feature holds the temperature of the food until you decide to serve it.
Weighing only 5.4 kilograms, you can effortlessly move the gadget around the kitchen. And as it measures 13.4" x 12.2" x 12.5" it's also fairly easy to place anywhere on your worktop space.
Other deals not to be missed
Amazon will soon be offering discounts and sales across items for Prime Day. We have a round-up showing all the best Amazon Prime day Instant Pot deals - if you've been eyeing up one of these gadgets, now is a good time to bag yourself a discount...