It's not long until Amazon Prime Day is upon us, but in a pre-emptive move Walmart has already started to cut prices on some of its popular products. Currently, the company is offering huge discounts across the Instant Pot range, knocking the cost of the Instant Pot Duo Mini 7-in-1, multi-cook model down to just $63.94 (was $99.99). And in addition to chopping a third of the price, Walmart is also shipping this particular gadget for free.
Some of the best Instant Pots on the market can cost over $200, so this is a seriously good deal if you're looking to buy one of the popular cookers. And while we can't yet say whether or not this will beat the best Amazon Prime day Instant Pot deals, which will land on June 21 - 22, it is a seriously low price for such a capable little gadget.
As a compact multi-cooker, the Instant Pot Duo Mini can slot into any home, measuring just 10.98 x 10.51 x 11.81 inches. Despite its diminutive size, it still packs in seven different functions, acting as a pressure cooker, slow cooker, rice cooker, steamer, yogurt maker, food warmer and sautéeing device. It's slow cooker function allows chefs to get the best flavors out of ingredients, while the food-warming feature means that you can keep dinner at the optimum temperature.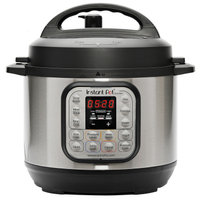 Instant Pot Duo 3 Qt 7-in-1 multi-cooker | Was $99.99 | Now $63.94
Packing in a grand total of seven different cooking functions, this compact little gadget is a serious space saver. It's currently reduced by over 30% so grab it while stocks last.
Because it's a smaller sized model, this 3 quart Instant Pot is best suited to smaller households or individuals. In general, it can produce meals that feed around two people, but it's also useful if you want to produce side dishes for potluck parties.
It's an easy machine to clean, as both the lid and the pot itself are dishwasher safe. And it's 'delay start' feature means that you can schedule your food to be ready for the moment you get back from work.
Other deals not to be missed
There are plenty of Amazon Prime day USA deals worth checking out. From June 21, we'll be updating and refreshing our deals pages with a round-up of all the best discounts on offer. Until then, here are a few of the best deals available…