The Haier HPC12XCR is a lightweight, efficient portable air conditioner with cooling performance that makes it an excellent option for most rooms. It has several operation modes so you can match it to your comfort level, whether that means cooling, circulating air or dehumidifying a room. Its compact size and light weight allow you to move it around the house as needed without much of a fuss, making it an ideal portable unit.
This portable air conditioner is ideal for rooms up to 550 square feet using 12,000 Btu of cooling power. The Haier HPC12XCR has a maximum airflow of 188 CFM, slightly below the average of 200 CFM. It has three fan settings you can adjust to your preference, but unlike our best pick, the Frigidaire Gallery, this machine lacks oscillating louvers, which sweep cold air side to side within a room, cooling it more evenly.
All portable air conditioners cool a room by pulling moisture from the air, but the Haier can remove an impressive four pints of water from the air per hour, the second-highest in our comparison. If you live in a humid environment, this air conditioner is well-suited for making your room a bit more comfortable.
The Haier HPC12XCR has an efficiency rating of EER 9.5, which is about average. Per our calculations, this unit costs approximately $90.72 a year to operate, based on eight hours of daily use for three months of the year. However, this cost is variable and changes depending on your usage and power costs in your area. This model also comes with the UL seal, meaning it has been tested for safety by Underwriters Laboratories.
The Haier AC unit incorporates a few convenient operation modes and features. First, it comes with a remote control, handy for controlling the unit from across the room. You can also program the cooler to turn on or off after running between one and 24 hours, so you can have it turn on automatically around the time you get home from work, for instance.
The Haier's lightweight, portable design allows you to move it from room to room as needed. At nearly 56 pounds, it's one of the lightest portable air conditioners we reviewed. Its vent hose extends up to 5 feet, allowing you to move it away from the window you exhaust the excess heat out of. The window kit reaches up to 46 inches, so you can attach the vent to small or midsize windows.
This air conditioning unit comes with a one-year warranty on the appliance itself and a five-year warranty on the compressor, the main component of the actual cooling system. At the time of writing this review, the Haier HPC12XCR costs $327, making it the second-most affordable model we reviewed, and $100 cheaper than average.
Need a better alternative?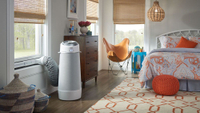 Best Portable Air Conditioners 2019
Top Ten Reviews has reviewed the Best Portable Air Conditioners 2019 so that we're able to offer you the authoritative buying advice you expect.