This Sunpentown portable AC unit is suitable to cool smaller areas of up to 350 square feet, and the modest annual cost makes it an affordable option for people just wanting to cool a small room or area in an apartment.
The Sunpentown WA–8070E is less energy-efficient than the other models we looked at, especially the Whynter ARC-12S. Despite its low efficiency rating of EER 8.9, the unit only costs an estimated $78 per year. This is mostly because the unit's Btu rating is much lower and won't use as much energy as a 14,000-Btu unit. To keep it green, this model uses eco-friendly R410A refrigerant. This is an ozone-safe substance without harmful chemicals, making your home and climate safer.
The W-8070E produces up to 185 CFM of airflow through a room, making it an excellent fit for smaller rooms. This model features cooling, dehumidifying and fan modes. Depending on where you live, the dehumidifier can be a blessing. On standard cooling mode, this air conditioner extracts 1.9 pints of water from the air and into the unit. The sound output of the Sunpentown WA-8070E is 53.6 decibels, which is average among the units we reviewed and shouldn't disturb your slumber much.
The unit's control panel has indicator lights to show the current cooling mode and timer status, but you can also use the included remote control to adjust the settings. This portable AC unit features washable filters. You can remove the air filters by pulling the filter tab in the rear of the unit. It's still heavy, but at 51 pounds, it is the lightest among models we reviewed.
This freestanding portable air conditioner comes with a one-year compressor and appliance warranty. This is standard for the appliance but below average for the compressor warranty. At the time of writing this review, the Sunpentown WA–8070E costs $318, making it the least expensive portable air conditioner we reviewed and well below the industry average of $427.
Need a better alternative?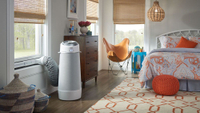 Best Portable Air Conditioners 2019
Top Ten Reviews has reviewed the Best Portable Air Conditioners 2019 so that we're able to offer you the authoritative buying advice you expect.