The Honeywell CO60PM portable evaporative cooler is rated for both residential and commercial use, which makes it versatile. Its water supply connector is key to its ability to run uninterrupted and unattended.
With an airflow of 1,540 cubic feet per minute (CFM), this portable swamp cooler can ably cool indoor spaces of up to 850 square feet. Its powerful fan is also effective outdoors – the unit can blow cool air up to 12 yards away, making it a good choice for a patio or garage. The CO60PM's 16-inch automatic oscillating louvers distribute that powerful airflow evenly.
This cooler requires 220 watts of power to run, which makes it the least efficient unit we reviewed. If energy efficiency is important to you, consider the Hessaire MC18M: It's only slightly less capable and consumes half as much energy. You can expect to spend around $19 to run the CO60PM over three months – the length of a typical summer.
Unlike many portable evaporative air coolers, including the NewAir AF-310, the CO60PM is ideal for outdoor use thanks to its rugged, weather-resistant casing. While it looks more functional than aesthetic, the unit's overall appearance isn't altogether displeasing. Also, there is a control panel on the front you can use to adjust the fan speed and the direction of the airflow.
The Honeywell CO60PM has a 15.9-gallon water tank, but you can also connect the cooler to a garden hose – that way, you don't have to refill the water reservoir. The cooler doesn't have an alarm for low water, but the unit shuts off automatically when the tank is empty. There's also a separate ice compartment you can fill to cool the air faster as well as three honeycomb cooling pads that retain water longer than a single pad. It doesn't have a remote control or auto shutoff timer, but those missing features don't keep the CO60PM from doing it most important job: cooling.
This cooler measures 40.04 x 27.56 x 18.35 inches and weighs 52 pounds, which is heavier than other models we looked at. However, it has four caster wheels, so you can roll it from one place to another. Honeywell includes a one-year warranty, which is typical for a portable evaporative cooler.
Need a better alternative?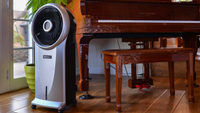 Top Ten Reviews has reviewed the Best Portable Coolers of 2019 so that we're able to offer you the authoritative buying advice you expect.