Amazon's Big Deal Days are finally here, and the Prime Early Deals for members are now live on the retailer's site. Chief among this year's bargains are savings on vacuums - good news for anyone in the market for an excellent cleaner without the high price tag.
The Samsung Bespoke Jet AI is ordinarily priced at $699.99, but Amazon has cut this down significantly to $474.99 - a saving of 32%, or more than $200! We rate this appliance very highly, with our reviewer praising its ease of use, AI features, and ability to perform across all floor types.
Keep reading to learn more about our experience with the vacuum cleaner, and head to our main Amazon Prime Day vacuum deals page for much, much more as the sales event really gets going.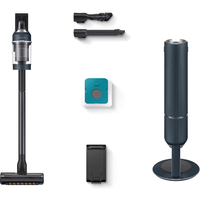 Samsung Bespoke Jet AI: Features
The Samsung Bespoke Jet AI vacuum cleaner has five modes that handle all floor types. During our testing, we tried each mode one by one on carpets and hard floors to see how well they cleaned up different types of debris. The Active Dual Brush is designed to clean the dust on hard and soft floors, and it works exceptionally well on soft floors, picking up caster sugar, oats, and hundreds and thousands in one clean sweep, even on the lowest setting.
The vacuum cleaner's AI mode optimizes suction power and rotation speed to conserve battery life and use less energy. The cleaner's tools, including the pet hair tool, rotating brush, and combination tools, were incredibly helpful in cleaning various surfaces, and the crevice tool was especially helpful in getting underneath sofas and in awkward gaps between furniture.
The Clean Station empties the dustbin, and it's then effortless to detach the dustbin from the vacuum stick and slot it into the Clean Station, which automatically empties the contents into the dust bag stored inside. The dustbin and filter are also washable, which is a bonus. The SmartThings app allows you to connect the device to the app using WiFi and perform a smart self-diagnosis check to diagnose problems.
Vacuum cleaner deals
Amazon's Prime Day is fast approaching, and the popular online retailer is preparing to unveil a new batch of deals for its Big Deal Days, starting from October 10th. Vacuum cleaners have always been a significant part of this bi-annual sales event, and we anticipate that they will be a major focus once again this fall.
We spend a significant portion of the year eagerly following the best vacuum cleaners in the market, and we get excited when they're about to go on sale. Therefore, we will be meticulously scouring through the best Amazon Prime Day deals before, during, and after the mega event to save you the trouble.
If you're planning to buy a new vacuum cleaner before the year ends, this event is going to be a great opportunity for you to snag the best deal. There is always the risk that stock will start to run low, so if you see a vacuum cleaner deal that you like the look of, then the time to buy is now - or when we gear up for our instalment of the best Black Friday deals within the next couple of months.