Want to save on LG washers? Here's your chance as the Best Buy Presidents' Day appliance deals include savings as big as $600 off washing machines. Featuring in our round up of the best front load washers, the LG MW9000HVA scored highly for its fantastic capacity, smart-enabled controls, and its high efficiency.
With Presidents' Day taking place on February 15, this saving ends soon, and at such a low price, you won't want to miss it.
Making it an ideal choice for family homes, the LG MW9000HVA has a huge 5.2 cubic feet capacity - that's enough to wash a full set of bedding in one load. It is also smart-enabled, so you'll be able to control it from your phone.
Plus, you won't just be saving on the initial cost of this LG washer, you'll also be able to expect lower running cost as the LG MW9000HVA is Energy Star certified and is estimated to cost around $14 a year to power - pretty impressive!
It's not just this Presidents' Day appliance deal you can save on either, Best Buy has dropped the price on a whole range of LG washers, including some fantastic and affordable top load washers.
Below we've included a selection of top LG washer deals you won't want to miss out on.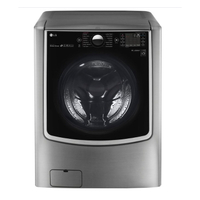 LG 5.2 cu. ft. Smart WiFi Washer: $1,799.99 now $1,199.99 at Best Buy
Up your laundry game with this stunning washer from LG, now a huge $600 cheaper. Suitable for family-sized washing loads, this machine is also compatible with a pedestal washer, and it'll automatically set the cycle to what you need.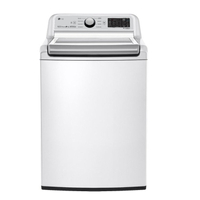 LG 5.0 cu. ft. Top Loading Washer: $899.99 now $749.99 at Best Buy
There's an impressive $150 saving on this top-rated LG washer right now. With a spacious capacity, smart controls, and Energy Star certification, this washer comes with a fantastic 10-year warranty on the motor.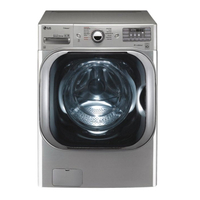 LG 5.2 cu. ft. Front Loading Washer: $1,499.99 now $1,099.99 at Best Buy
Save a hefty $400 on this huge washing machine from LG. Complete with 5.2 cubic feet of capacity and an impressive 22 cycles, this LG washer works quietly and is energy efficient too.

Whichever type of LG washer you're after, there are plenty of savings to take advantage of in the Presidents' Day appliance sale at Best Buy. The LG top loader we've included above is a fantastic choice if your budget won't stretch to a front load model. That's because, unlike many other washers of this type, the LG machine doesn't use an agitator (which can be very harsh on clothes), and instead uses an impeller making it more efficient and gentler on your laundry.
What's more, all of these LG washers are Energy Star certified. Appliances with great efficiency normally cost more upfront, so to see these models on sale with discounts as big as $600 is pretty rare.
If you want to make life easier, two of these LG washers are also smart-enabled. That means you can set your washer to work, monitor the progress of your washing, and receive alerts for when the cycle has finished. If ever there are any issues with your washer, you'll also be able to use the app to diagnose problems and get to the bottom of them quicker.
Offering up a rare chance to save on big LG washer discounts, cash in on Best Buy's Presidents' Day appliance deals while you still can.
More great washer deals
Looking for more bargains and discounts? Head over to our selection of Presidents' Day Refrigerator Deals.