If you've been wondering which Instant Pot to buy, your search may be at an end. With a massive 38% off as part of the Amazon Holiday Dash event, the Instant Pot Duo Plus 6 Quart now costs just $79.99, a saving of almost $50 - but it's only available for one day!
If you're familiar with instant pots, the Instant Pot Duo Plus is essentially the Duo model with upgrades. This means you're getting an easyseal lid for automatic sealing when pressure cooking and a progress indicator to keep you up to date with where your meal is at.
Effectively nine appliances in one, you're getting great bang for your buck too - the Instant Pot Duo Plus gives the best slow cookers and best rice cookers a run for their money, but can be used as a pressure cooker, steamer, saute pan, egg cooker, yogurt maker, warmer and sterilizer as well.
With a cook time up to 70% faster than other appliances you're ensured a speedy meal, and with 15 one-touch smart programs for cooking ribs, soups, poultry, desserts and more on autopilot, it's guaranteed to be cooked just right too.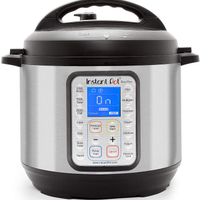 Instant Pot Duo Plus: $129.95 now $79.99 at Amazon
Cook countless meals without breaking the bank by saving $50 on the Instant Pot Duo Plus at Amazon today. With nine functions in the one, you can cook rice, steam and even make yoghurt in this Instant Pot, which has a capacity large enough to cater for up to six people at a time.
There's three new programs to make your life easier, with the Cake program specially designed to pressure cook soft and moist cakes, and the Egg program set to deliver perfect eggs in a matter of minutes. The third newcomer, the Sterilize program, allows you to pasteurize milk, and to sterilize everything from baby bottles through to jars and utensils.
Its 6-quart capacity means the Instant Pot Duo Plus is easily capable of cooking for up to six people, making it ideal for family mealtimes and smaller households that like to batch cook in advance. The large blue LCD display means you'll have no problems keeping track of your meal, while the updated user interface makes it easy to adjust the cook settings, pressure levels, and more whenever you need.
Once you're finished, the Instant Pot is remarkably easy to clean, coming complete with a fingerprint-resistant stainless steel lid and other components that you can safely pop in your dishwasher. And for added peace of mind, there's a myriad of safety features such as overheat protection and a safety lock to keep you and your family from the potential of any harm.
If Instant Pot isn't for you, we have a guide to the best Ninja Foodi Black Friday deals too.
More great Instant Pot deals
On the look out for more money-saving deals and discounts? We've rounded up the best Black Friday USA deals for 2020 - which includes early price-cuts from online retailers everywhere. We also have a guide to the best Amazon Holiday Dash deals, for anyone aiming to get their shopping done early this year.