This Samsung washer deal means you'll save $600 when buying this Samsung washer dryer pair at Home Depot, with the overall bundle price of $1,296 getting you both the Samsung 4.5 cubic feet front load washer together with a 7.5 cubic feet Samsung gas dryer. When compared with the best Cyber Week washer and dryer deals 2020, this is right up there.
Samsung features heavily in our guide to the best front load washers and enjoys a great reputation when it comes to the best dryers as well. Both coming in black stainless steel, this washer dryer pair won't look out of place in any laundry room. They look great side-by-side but are just as easy on the eye when stacked on top of each other if you're a little short of floor space where your laundry chores take place.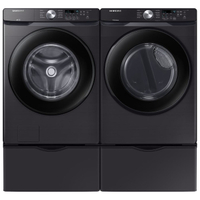 Samsung Front Load Washer and Dryer Set: $1898 now $1,296 at Home Depot
Save a huge $600 on this black stainless steel Samsung laundry pair at Home Depot right now. The large capacity of both means you'll save time on your washing and drying, while the option to stack them one on top of the other means you can save space in your laundry room as well.
The generous 4.5 cubic feet of capacity offered by the washer will save you plenty of time when it comes to doing the laundry, while the vibration reduction technology that it contains means it will work away quietly and you won't even know it's there. The self-clean feature that it incorporates also guarantees to eliminate 99% of the bacteria you might usually expect to find in the drum, and the washer is Energy Star certified, to help bring down those energy costs.
There's even more space available in the 7.5 cubic feet drum of the gas dryer, and a choice of 10 preset drying cycles to suit all your potential drying needs. And if you're concerned that drying your laundry with a dryer might damage your clothes, the Sensor Dry feature is designed to prevent overdrying and to deliver optimal fabric care. The door on the dryer is even reversible, so you can choose the direction that it opens to suit the layout of your home.
More great Samsung washer deals
Looking for more bargains and discounts? Then you're in luck, as we're rounding up the best Cyber Monday deals from major retailers and brands. We 're also rounding up the biggest and best deals for all areas of home, health, tech and hobbies. Here are some of our favorites....